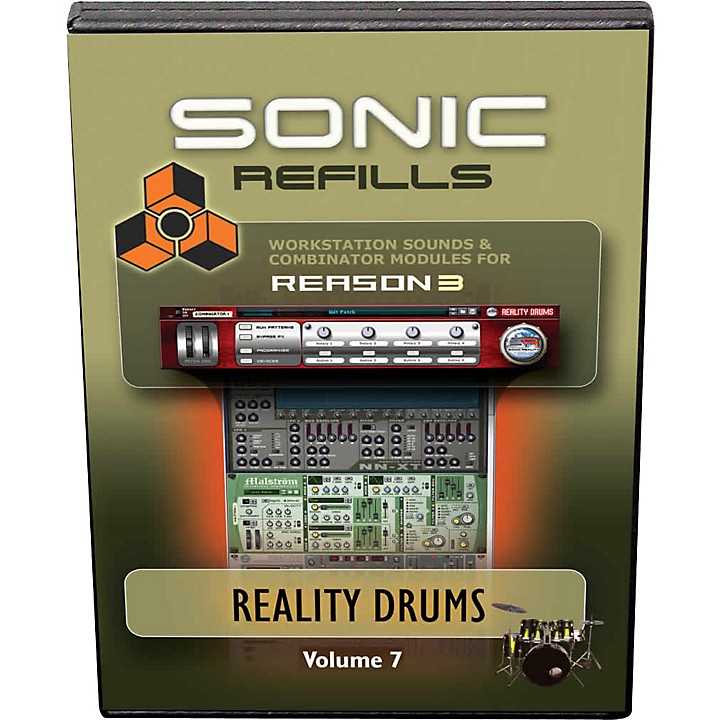 A massive collection of acoustic drum hits!
The Sonic Refill for Reason Volume 7: Reality Drums sample collection focuses on realism for high quality studio drum sets. Reality Drums gives you a taste of Sonic Reality's unique "Interactive Map" for more expressive, playable drum sets. Featuring left and right stick snare rolls, ghost notes, multi-dynamic positions of each drum and up to 8 velocity layers with NNXT's ALT feature (where there is often an automatic randomization of hits) the level of realism these drum samples reach is a first for a sound library in this price range. The Reality Drums Refill is a "must-have" for anyone wanting real sounding acoustic kits for use in Reason's NNXT and ReDrum.

Sonic Reality takes Reason to a whole new level with their Sonic Refills series of sound libraries. Each of the highly affordable volumes in this over 20-volume collection offers amazing playable instruments, meticulously recorded and expertly programmed.

Now updated for R3!
Sonic Reality has updated all 20 volumes of the Sonic Refill series for Reason 3! These new Sonic Refills feature brand new R3 Combinator modules, expertly programmed by Sonic Reality to take advantage of the new features specific to the Combinator.
Specifications
Sounds may be used in all samplers supporting the following formats
Reason NNXT
Reason ReFill