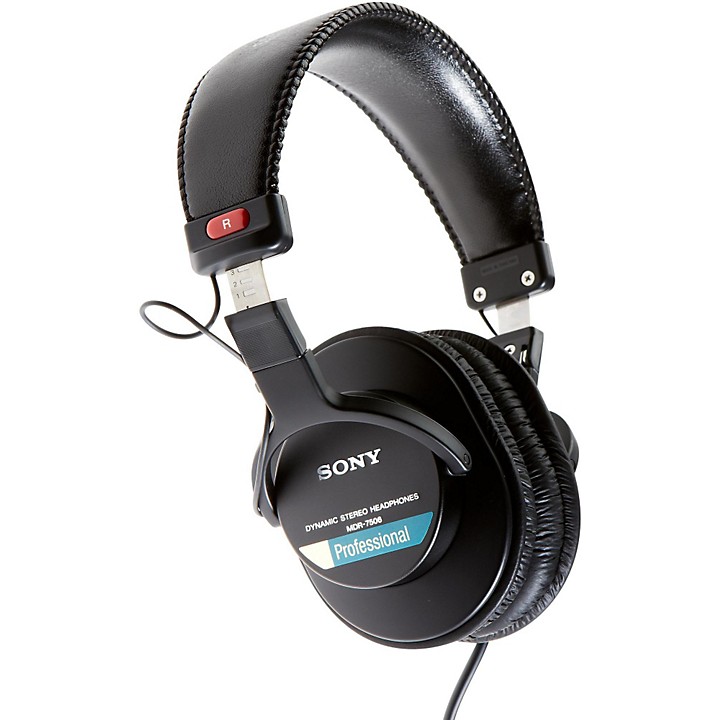 Hear every note with premium sound isolation.
The Sony MDR-7506 Professional Headphones provide an unparalleled listening experience for the discerning audiophile. Featuring large 40mm neodymium drivers, these headphones deliver premium sound across an extended 10Hz to 20kHz frequency range so you can hear each note with pristine clarity. The closed-ear design ensures maximum sound isolation, blocking out external noise so you can focus on the music.


Premium Drivers Reproduce Every Nuance
The MDR-7506 Headphones feature high-quality 40mm neodymium drivers that accurately reproduce the full frequency spectrum. From the deepest basslines to the highest highs, you'll hear each note with crystal clear detail. The wide frequency response means these headphones are ideal for critical listening applications where hearing accuracy is key.


Closed-Back Design Provides Sound Isolation
With a closed-back design and oval earpads that fully enclose your ears, the MDR-7506 Headphones block out external noise and prevent sound from leaking in or out. This makes them perfect for recording applications, as the closed-back design ensures microphones won't pick up any sound from your headphones. The snug fit also provides tight bass response, allowing you to feel the thump of the bass.


Lightweight yet Durable Build for All-Day Comfort
Despite their rugged, all-metal construction, the MDR-7506 Headphones are lightweight and comfortable enough for extended listening. The adjustable headband and rotating earcups provide a customizable fit for any head size. And when you're done listening, the earcups fold in for compact storage in the included carrying case.


Reliable Components for Professional Use
From the gold-plated connectors to the oxygen-free copper cord, the MDR-7506 Headphones are built with premium components to provide exceptional reliability. The UniMatch plug allows you to connect to both 1/4" and 1/8" jacks. Overall, these headphones are designed to withstand the rigors of daily professional use.

Experience premium sound isolation and comfort with the Sony MDR-7506 Professional Headphones. Order today.
Specifications
General
Ear coupling: Over-ear
Operating principle: Closed
Frequency response: 10Hz–20kHz
SPL: Not specified
Driver size: 40 mm
Noise cancelling: No
Other
Weight: 8.1 oz.
Cable type: Coiled
Cable Length: 9.8'
Connector: 1/8" with 1/4" adapter
Built-in mic: No
Bluetooth connectivity: No
Features
40 mm driver unit
Closed-ear design
Folding construction
Stereo uni-match plug
Soft case included