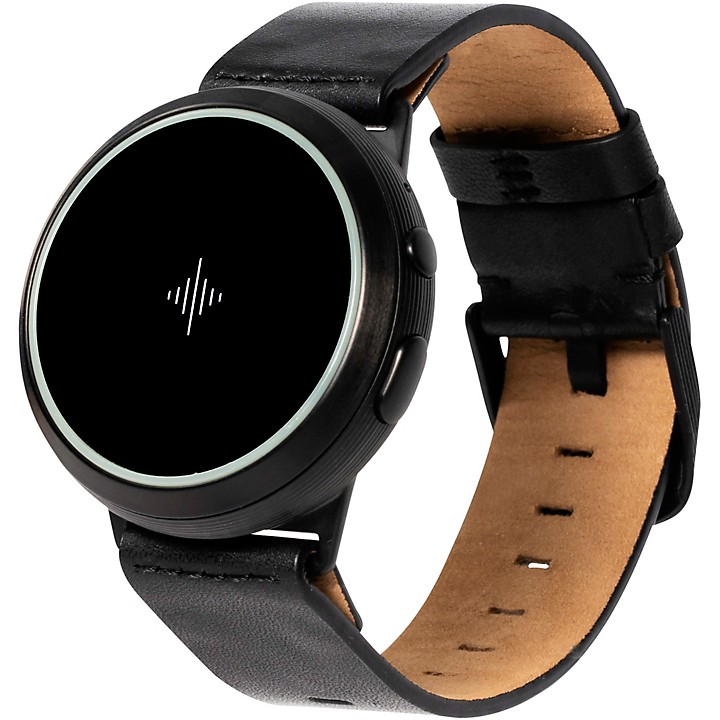 This premium, stainless-steel watch will change the way you play.
Introducing the Soundbrenner Core, the watch for all musicians, combining professional music tools with the convenience of wearable technology. Access a Vibrating Metronome, Contact Tuner, dB Meter and Watch in one device. Play better; anytime, anywhere.

Don't hear it. Feel the beat - Silent, vibrating metronome.
-Powered by a 7G ERM Motor, with vibrations 7X stronger than the average
smartphone. Finally, you can free yourself from the distracting audio clicks.
-Simple and intuitive control - Multi-function metronome
-Set your BPM, time signatures, subdivisions, accents and vibrations directly on the Core. Start or stop by two easy taps.
-Connect the band and play as one - Multiplayer sync
-Connect up to 5+ devices via Bluetooth and play tighter together than everbefore.
-Wear it on your chest, thigh or wherever you prefer to feel the vibrations in the most precise way possible.
-Seamlessly connect to the world-renowned metronome app, The Metronome by Soundbrenner. Load your setlists, change songs and connect with your band.

Contact Tuner - Get in tune. Whenever. Wherever.
1. Rock solid accuracy, always with you - Magnetic contact tuner
2. Tune in the noisiest of environments - All environmental tuning
-The Core's Piezo mic detects the vibrations on the surface of your instrument*,
allowing for accurate tuning, even in the noisiest of environments.
3. Tuning made simple - Easy Tune
-Twist, attach and tune - it's that simple. The OLED display and the 8 Sector LED Ring will guide you to the right note.
4. Easy and secure - Magnetic locking system
-Locked in with two neodymium magnets, a simple twist of the Soundbrenner
Core releases it from the base. The neodymium magnets were selected for their incredibly powerful hold so you can be sure that the Core stays put.

dB Meter - Listen up. Protect your ears.
As a musician, you need to protect your ears. From festivals and gigs to jam sessions and rehearsal, Soundbrenner Core monitors your surrounding sound levels and alerts you when it gets too loud.

1. Know your sound levels - dB Meter
-The Core's dB Meter constantly monitors your surrounding sound levels so you
can become aware and take action to protect your ears
2. Become aware - Real-time dB monitoring
-Check your real-time decibel exposure and protect your ears.
3. Know your long term exposure - Average dB monitoring
-See the average past 5-minutes dB levels to become aware of your long term exposure.
4. Get alerted - dB Alarm
-The Core alerts you when you exceed potentially harmful dB thresholds

Multipurpose watch
The Core is the world's first watch made for musicians. Crafted with quality, durability, and style in mind, the Core is your watch for everyday use, while keeping your music tools closeby.

5+ days battery life - 5+ day battery life in watch mode or 3+ days with 30min/day metronome practice.*

Soundbrenner Core
-Accept/decline calls** - Accept and decline calls from your phone easily with the push of
a button
-Time/Date - Time, date, stopwatch, and timer functionalities included.
*Battery life is dependant on use and other factors **Available in early 2020 through firmware update

There's a Core for everyone. Available in two finishes, the Core, made from a lightweight and durable polycarbonate with an aluminum bezel, and the Core Steel, encased in a premium material favored by legendary watchmakers; Stainless steel. Both materials are chosen for their strength and durability

Designed for musicians by Soundbrenner
-Soundbrenner Core is the timepiece designed for musicians by musicians. From the interface, the control wheel, and its intuitive buttons, every detail has been thoughtfully considered for your use and routine.

Water & weather resistant
The Core is engineered for your everyday use. Water and dust resistant (IP65 rating).