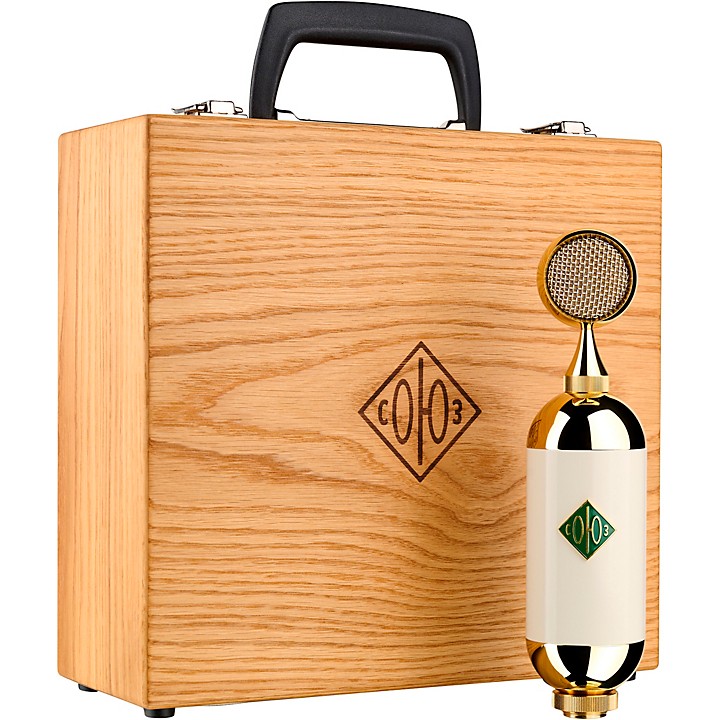 Handmade FET condenser.
The Soyuz 017 FET condenser represents the modern embodiment of the big, classic sound so highly prized in vintage microphones. All Soyuz microphones are like the finest musical instruments and works of art—completely handmade. They enable detail to be captured with stunning depth, warmth and a silky transparency in the upper frequencies. These sonic traits inherent to the 017's design, allow it to highlight the subtle nuances of sources like vocals and strings while accurately capturing complex instruments with difficult transients across the entire frequency spectrum.

The 017 FET features a cardioid capsule with a gold-sputtered, hand-tuned 34 mm diaphragm; an omnidirectional capsule is currently available, with additional patterns in development. As with all Soyuz microphones, the 017 FET is completely handmade: bodies and capsules are manually machined, transformers are wound in-house and all wiring is true point-to-point.

The 017 Series mics have quickly become the go-to vocal microphone for a wide variety artists such as Coldplay, Radiohead, Shawn Mendes, Paramore and many others. Well-known producers and engineers who have adopted it include Nigel Godrich (Radiohead, Paul McCartney, Beck), Ryan Hewitt (Red Hot Chili Peppers, the Lumineers, Lady Gaga), Sylvia Massy (Prince, Johnny Cash), Butch Walker (Pink, Green Day, Taylor Swift, Avril Lavigne) and many more.

The engineers at Soyuz have spent decades studying, servicing and building classic microphones; this unique pool of knowledge, craft and skill—combined with the ears of numerous musicians, producers and audio engineers—has culminated in the creation of the 017 Series' custom S17 capsule. Featuring a gold-sputtered, hand-tuned 34 mm diaphragm, the S17 is loosely based on the original K67 capsule developed in 1960. Far from creating another clone of a classic, Soyuz has further developed the design, modifying its assembly and tuning. The result, when paired with Soyuz's original schematic, is unique—and uniquely musical.

The 017 FET is a perfect complement to any source needing a three-dimensional sound and captured in a way that already feels finished. The additional –20dB in-line pad provides extra versatility for louder sources like guitar amps and close miked percussion. With its open top-end, smooth mid-range, powerful—yet balanced—low end, and remarkably robust build quality, the 017 is destined to be the future benchmark of that elusive mixture of accuracy and sonic flattery that has sent vintage prices soaring.
Specifications
Type - Condenser FET microphone
Capsules- Two 34mm membranes (one gold sputtered);
Frequency Range- 20Hz/20kHz;
Polar Pattern - Cardioid (swappable) with optional omnidirectional capsule;
Sensitivity- 15mV/Pa;
Impedance- 200 Ohms;
SPL- 140 dB;
Equivalent Noise- 18 dB (a-weighted);
Power- 48V Phantom;
Size- 226mm length x 55mm diameter;
Weight- 930g;
Extras- wooden microphone box, power supply, 6 pin cable, shock mount, spare tube.
Features
100% handmade in Russia;
Proprietary toroidal transformer;
34mm gold sputtered diaphragm capsule;
Optional capsule: omni;
Optional pads: -10 dB, -15 dB, -20 dB.
Heavy duty shock mount;
Comes in a velvet-lined, hand-crafted Russian hardwood box.