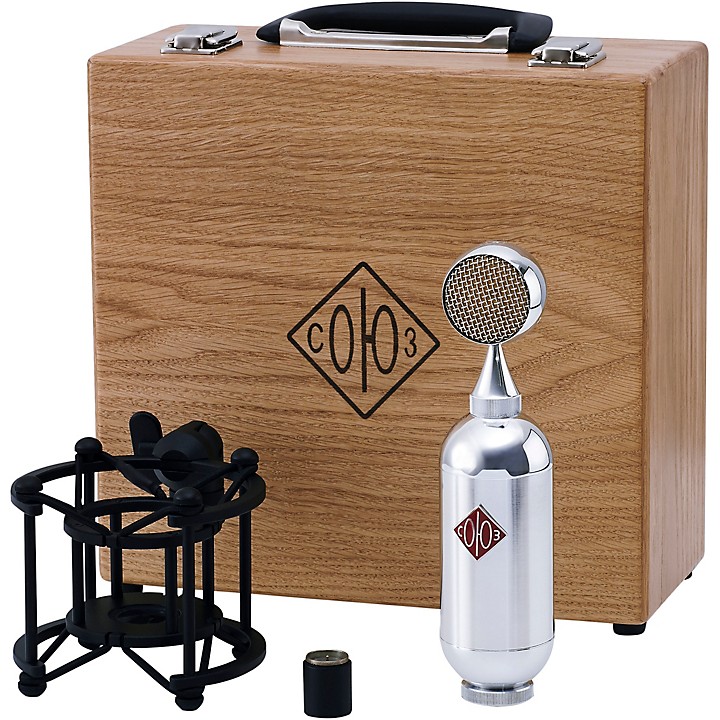 Versatile condenser mic for capturing vocals, instruments and amplifiers.
The Bomblet Deluxe from Soyuz Microphones is a limited run of the 023 BOMBLET that comes in a handmade oak suitcase with a custom shockmount and 10 ft. cable. Featuring a distinct blend of color and clarity, the Soyuz 023 BOMBLET condenser is perfect for capturing everything from drums to amplifiers. With its forgiving top-end, smooth midrange and thick lows, the Bomblet complements the aggressive tonalities of brighter instruments—and vocals—without sacrificing transients or detail.

The Bomblet is one of the easiest microphones in the world to use. Regardless of placement and distance, you can expect a full and balanced sound. Its forgiving nature is what makes it the primary choice for singers looking for a warm, colorful texture without hiding the original tonality. On louder and bass-heavy sources like electric guitar, kick drum and bass amp, the Bomblet delivers a tight, full-bodied punch that will capture the low-end extension of your instrument with enough clarity to cut through a dense mix. Its custom transformer imparts a thickness and character that enhances the tone you've worked years crafting simply by hitting record. The engineers at Soyuz have spent decades studying, servicing and building classic microphones; this unique pool of knowledge, craft and skill has culminated in the creation of the Bomblet's custom S23 capsule. A different design than that of the 017 series, the S23 is Soyuz' reimagining of Lomo's Russian version of the CK12 capsule: with its thick low-end, pronounced mid-range and detailed top end.
Specifications
Microphone Type: FET Condenser
Polar Pattern: Cardioid
Diaphragm Size: 1.29" capsule
Frequency Range: 30Hz-18kHz
Max SPL: 140dB SPL
Output Impedance: 190 ohms
Sensitivity: 25mV/Pa
Dimensions: 7.63" x 1.85"
Weight: 475 grams
Included Accessories:
Wooden Microphone Suitcase
Custom Shockmount
Mic Clip
-20 db pad
Mic cable
Features
Thick low-end, pronounced mid-range and smooth top-end
Includes 20 dB pad for loud sources
Custom large capsule designed and machined in-house
Proprietary toroidal transformer imparts color and depth
Comes in a hand-crafted Russian hardwood box