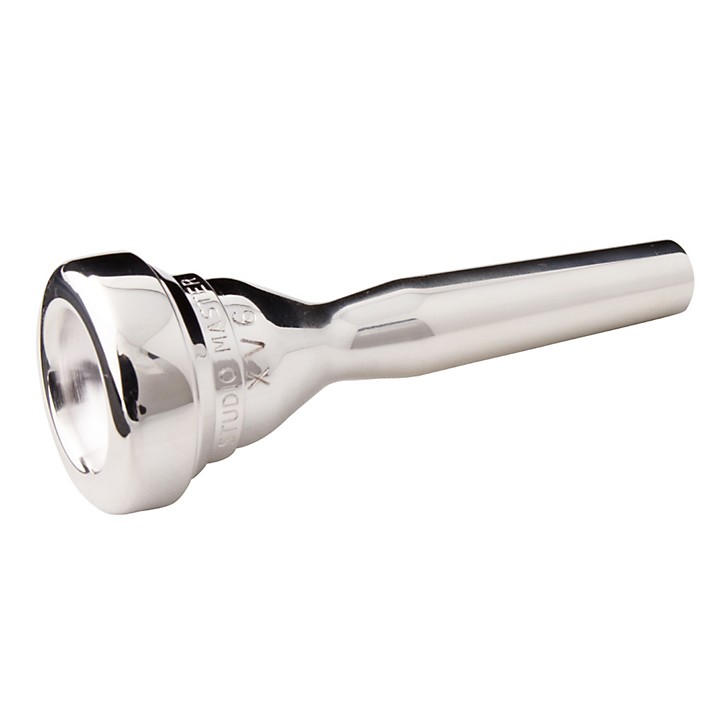 Custom mouthpieces for the most discerning player.
The Studio Master Series offers a wide range ofoptions all designed to find the optimum balance of resistance between the player and his equipment to achieve maximum air velocity in the upper register. There are Five Major Elements that we manipulate in order to achieve this balance. Overall length, cup depth and shape, bore and back bore.

Overall Length
The overall length of the mouthpiece affects the resistance. All things being equal, the longer the overall length, the greater the resistance. The XV models have an overall Length of 3.240" (79.76mm).

Cup Depth and Shape
The Studio Master cups are shaped quite differently than most shallow cupped mouthpieces. They employ a "Dual Cup" concept. This allows us to carefully and purposefully manipulate the two most important factors relating to shallow cupped mouthpieces: Lip accommodation and Airflow. The top cup is designed to allow for more room for the lips to vibrate freely. The bottom part of the cup (throat area) is used to regulate the airflow. The XV cup has a bit more room in the walls of the cup. This can add extra depth to the tone and provide extra vibrating room for the lips.

The top part of the cup has a great deal more room just under the rim in the walls of the cup. Not only does this allow for the lips to vibrate more freely, but it is an important factor in the robust sound that the Studio Master pieces are known for. This extra room also lets players with fleshier lips play a shallower cup than they generally are able to play. The extra room in the throat area of the cup (bottom of the cup, or entrance to the bore) allows more air to flow through more quickly.

Bore and Back Bore
The XV models have a medium tightest back bore. Because of the shortness of the overall length this model has considerably less resistance then most 'high note' designs. It provides a great balance between openness and resistance.XL mouthpieces have a #27 bore size of .144" (3.65mm).

Features
Overall Length: 3.240" (79.76mm).
Cup depth: .460" (11.68mm)
Bore Size" #27 = .144" (3.65mm)
Material: silver-plated brass
Rim sizes:
Model: 2
Inner diameter: .698" (17.75mm)
Outer diameter: 1.100" (27.94mm)
Rim width: .200" (5.08mm)
Model: 4
Inner diameter: .637" (16.18mm)
Outer diameter: 1.052" (26.72mm)
Rim width: .175" (4.45mm)
Model: 6
Inner diameter: .639" (16.25mm)
Outer diameter: 1.096" (27.83mm)
Rim width: .233" (5.92mm)
Model: 10
Inner diameter: .620" (15.75mm)
Outer diameter: 1.085" (27.56mm)
Rim width: .200" (5.08mm)