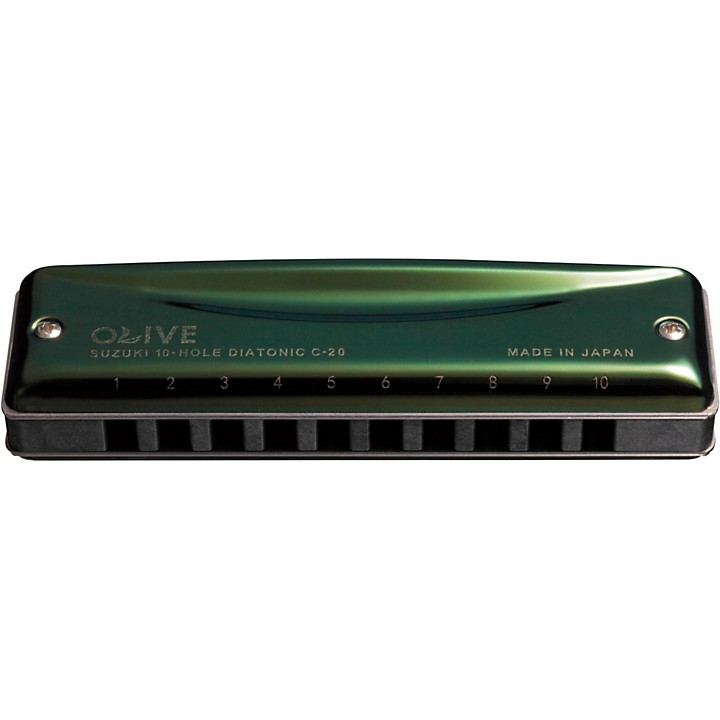 A diatonic harmonica with 10 holes and 20 notes all in a coverplate of vived green.
The Suzuki C-20 Olive Harmonica has a vivid green Olive coverplate, achieved in a special high-tech process without any coloring material for lasting durability and clear tone.

Hybrid Wood-Resin Comb
In the past, all harmonicas had wood combs. They gave a warm tone but wood absorbed moisture from the players's breath and deformed, reducing airtightness and playing comfort. To solve this problem, Suzuki has invented the wood-resin composite body. This material is composed of over 50% wood fibers encased in impermeable resin, which allows the player to enjoy the tone of a traditional wooden harmonica without its past problems. First pioneered on the popular Manji diatonic, this comb has been widely praised by players.

Made in Japan
The ease of playing a harmonica is strongly influenced by its airtightness. Suzuki 10 holes harmonicas are extremely airtight due to highly accurate by high-accuracy manufacturing processes and assembly. The Olive's tight seal between component parts makes respond quickly to quick phrases, and gives sensitive tone and bending control. In addition, Suzuki's unique welded-reed manufacturing process gives unprecedented accuracy of reed attachment, the most accurate ree/slot alignment of any manufacturer. This allows the reeds to respond flexibly to all advanced bending and overblowing technique to achieve a dynamic, deep sound.

These high-tech achievements come from a Suzuki tradition of continual improvement of manufacturing processes and a never-ending search for new ideas, backed up by the famously high standards of Japanese craftsmanship, forging a pleasing harmony between tradition and innovation. The "Made in Japan" stamp on Suzuki harmonicas guarantees the player a consistently high quality of manufacture and service.
Features
Range: 10 Holes, 10 Notes
Notes: Major 12 Keys, Hi G - Low F
Materials: Stainless steel coverplates, Solid body with natural wood fiber
Remarks: Replaceable Reedplate
Accessories: Softcase