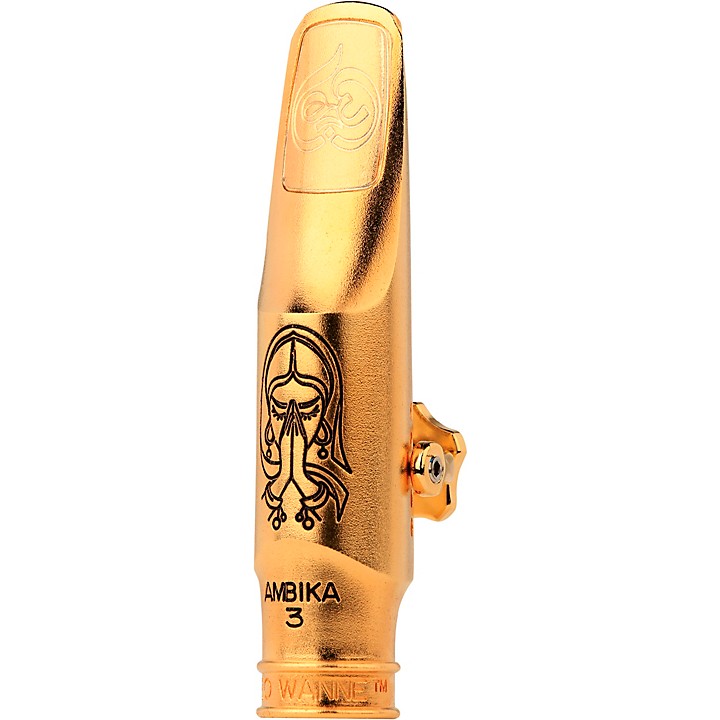 Hauntingly dark sound with 24K gold plating.
The AMBIKA 3 Tenor Mouthpiece is Theo Wanne's darkest mouthpiece. It has a deep, hauntingly gorgeous tone that only poetry can describe. The AMBIKA 3 has a full bodied sound reminiscent of the vintage 1940's mouthpieces, but with much improved projection, ease of play and dynamics.

The Shark Gill Baffle works on the physics principle of 'boundary layer effect' pulling the airstream closer to the floor. This allows one to 'fill' the mouthpiece more, resulting in increased dynamics. The True Large Chamber is far more accurately produced than any other vintage and new mouthpieces due to Theo Wanne's superior machining, which means the design is exactly what Theo intended it to be, not just an approximation.

The Metal AMBIKA is plated with 24K gold with Vintified Ligature. If you like the vintage sound, you will love the AMBIKA. The AMBIKA 3 has an even bigger, fuller sound than the AMBIKA 1 or 2, and greatly increased dynamics and sense of expression.

"The AMBIKA is WAY beyond the vintage mouthpieces. I was playing a vintage link for 20 years, but no more!" - Pat Rizzo (WAR, Sly and the Family Stone, Frank Sinatra)

"The AMBIKA is the only mouthpiece I'll now use! I can approximate an ol' school Coleman Hawkins/Sam Butera sound AND a modern Michael Brecker/Lenny Pickett sound by just by adjusting my embouchure." - Karl Hunter (Big Bad Voodoo Daddy)
Specifications
Details
Case: Leatherette
Finish: Reticulated 24K Gold with highlights on logo (standard)
Serial Number: Includes specific serial number
Premium Hard Rubber: The Hard Rubber AMBIKA uses the finest vintage style hard rubber on the planet!
Ligatures: Integrated two-point contact 24K Gold Plated Liberty Ligature and Alive Gold pressure plate
Cap: Reed Replacer Cap
Bite Pad: User Replaceable Bite Pads
Features
Sound
Built to outplay Theo's very best Vintage New York Tone Master and Master Link Otto Link
A deep and haunting sound best left to poetry
Revolutionary in improving upon the true vintage sound
Design
Revolutionary Extra Large True Large Chamber, no baffle, and rounded inner side walls
Crafted to the highest accuracy
Designed by Theo Wanne, the foremost expert on the design and manufacturing of vintage and new mouthpieces
WARNING: This product can expose you to chemicals including Lead, which is known to the State of California to cause cancer, and to cause birth defects or other reproductive harm. For more information go to www.P65Warnings.ca.gov.