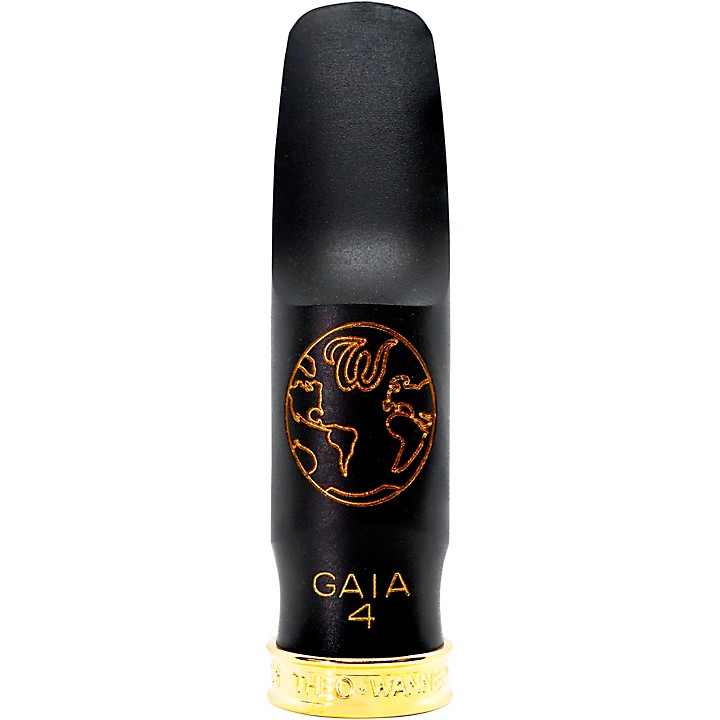 Classic design meets new innovations..
The GAIA 4 alto is fully re-designed. It still has the classic Meyer style of sound, but with many visible, and hard to see innovations. The result of the GAIA 4's new design is a freedom of play never before experienced in a traditional sounding alto mouthpiece. Easy to see innovations include the proprietary Shark-Gill Baffle, which improves the airflow and opens up the sound.

Harder to see is the redesigned baffle shape and chamber. Once you spend some time on it, you will find a dynamic range and flexibility not found in any other mouthpieces. Large chambers have been widely explored in the history of tenor mouthpieces, but very little has been done with alto mouthpieces. The GAIA 4 Alto mouthpiece opens up a whole new world for the alto saxophone. Not only is the design revolutionary, but it uses state of the art manufacturing and premium materials so that design is made right. The GAIA 4 has evolved from the GAIA 3 with an even more core, projection and body to the sound.

Sound
Outplays history's best traditional alto mouthpieces. Full, rich and fat traditional sound with a hint of edge.

Design
Includes the proprietary Shark-Gill-Baffle, True Large Chamber, and rounded inner side walls all the way to the tip. Crafted to the highest accuracy in the history of saxophone mouthpieces. Designed by Theo Wanne, the foremost expert on the design and manufacturing of vintage and new mouthpieces.
Features
Beautiful Leatherette
Reticulated 24K Gold plating with highlights on globe logo
The Hard Rubber GAIA 4 uses the finest vintage style hard rubber on the planet
The metal GAIA 4 includes integrated two-point contact 24K Gold Plated Liberty Ligature and Alive Gold pressure plate
The Hard Rubber GAIA 4 includes the Enlightened Ligature, rated #1 ligature in the world
To truly individualize your sound, try premium Pressure Plates, which fit all of the manufacturer's mouthpieces and ligatures
Patented Reed Replacer Cap-the most secure cap in the world
User Replaceable Bite Pads allow you to peel and stick on new bite pads