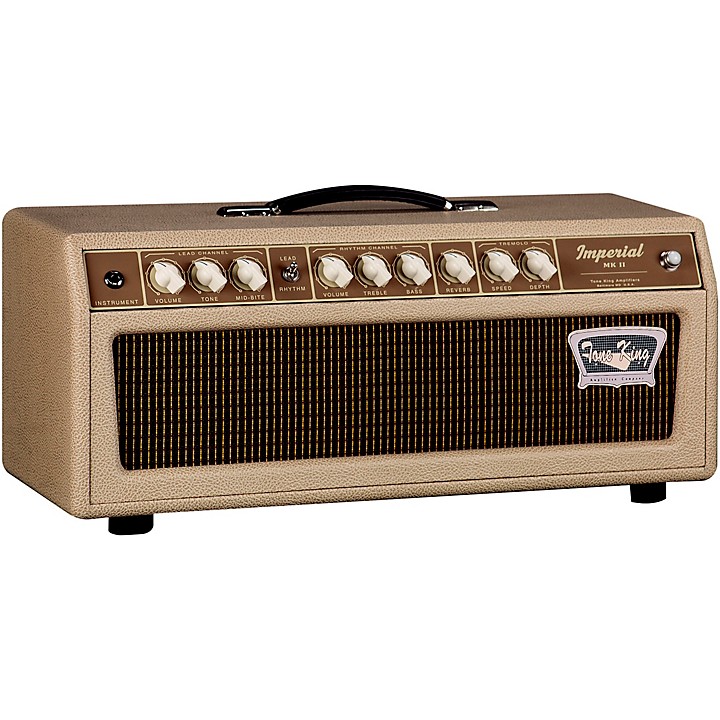 This American-style tone beast has a vintage heart with modern appointments.
For nearly two decades, Tone King's Imperial combo has been hailed as one of the best-sounding American-voiced amps on the market. The MkII version, released a few years back, solidified its legacy status. All of the spanky blackface-style voice, gritty tweed tones and intuitive controls that players love about the Imperial MKII combo, are now available in a convenient head version.

The Imperial MKII Head retains the combo's vintage-voiced tube reverb and tremolo. You still get all of these tube-driven tones at any volume, thanks to an onboard Ironman II reactive power attenuator. With the ability to easily mix and match your favorite speakers and cabinets, this head is Tone King's most versatile Imperial ever. If you love the sound and feel of the Imperial MKII, but demand the sonic flexibility that only comes with a top-tier, all-tube amp head, this is the Tone King for you.

MKII - 20 years of improvement
Spring boarding off of the tones that made the original Imperial its flagship amp, Tone King included a few tonal adjustments and additions that make the MKII your new go-to tube amp.
-Handwired board construction improves midrange heft while also improving the highs
-Rhythm channel tuned for improved Blackface tones with a smoother breakup
-Lead channel's Mid-Bite control tightens the low end for added punch and cut

Ironman II reactive attenuation
Tone King included the Ironman II power attenuator aboard the Imperial MKII for even more flexibility. Now you can bring your Imperial's maxed tube tones to band or home-friendly levels. With its reactive load technology, your amp will sound and respond the same at any volume.
-The 6-step attenuation in a 22 Watt amp captures all playing environments from gig to bedroom
-Reactive load technology maintains the feel and frequency response of your guitar amplifier
-The High Frequency (HF) compensation switch lets you tame the overall Treble for sweeter overdriven tones
-Rhythm Bypass switch enables you to use sparkling cleans and heavily overdriven sounds with a flick of a switch

Onboard spring reverb and tremolo
Spring reverb and bias-modulated tremolo are two effects that define the tone of many vintage American-voiced amps. With its tube-driven reverb and classic Bias Tremolo, intuitively operated by a familiar control layout, you'll find the Imperial MKII gloriously re-creates those thick, splashing, pulsating tones.
-Bias modulation tremolo circuit delivers vintage-style pulsing amplitude modulation
-The Tube driven spring reverb ranges from subtle thickening tone all the way to long lush decay
-Effects carefully tuned to balance across the two channels
Specifications
Power: 20W (tube)
Tubes: four 12AX7 (preamp) two 6V6 (power amp), one 12AT7, one 5AR4
Two channels: Blackface-style rhythm channel and tweed-like lead channel
Foot-switchable channels and bias modulation tremolo
Tube-driven reverb
Onboard Ironman II reactive attenuator for great tone at any volume
Reactive load technology maintains the feel and response of your guitar amplifier
Tunable Attenuator with HF Compensation and Rhythm channel Bypass switches
Baltic Birch USA construction
Dimensions: 9" x 22.5" x 10.5"
Weight: 25 lb.