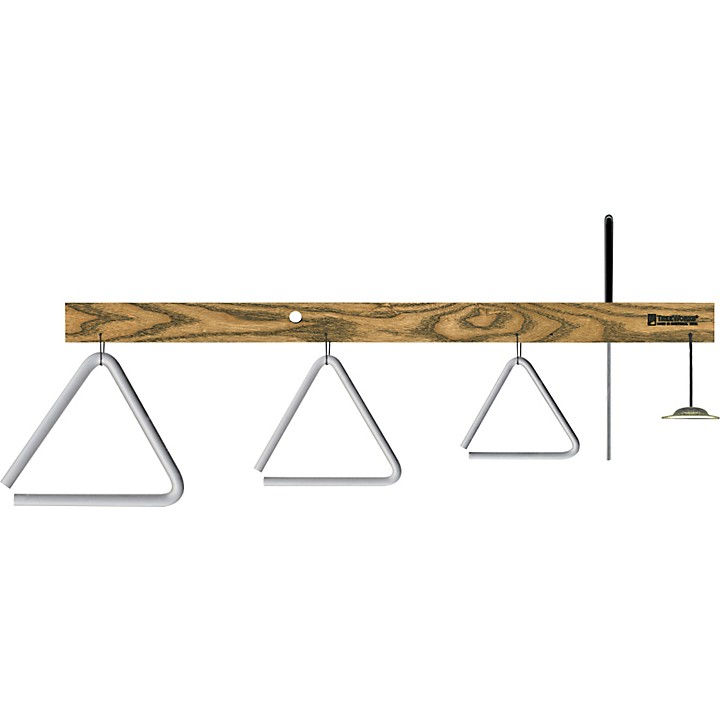 A convenient set-up for this uniquely designed triangle chime.
The new TriangleTree showcases three high-carbon steel triangles, cast bronze finger cymbal and stainless steel beater all on one convenient set-up. The steel alloy used for the triangles has been heat treated to yield brilliant tone. The three sizes are 4", 5", and 6" and cover a full range of uses. An unusual design on these triangles is that the diameters are also graduated-starting with a thin 3" growing up to a stout 5" thick for the largest model. The finish is satin chrome. The cast bronze finger cymbal adds another useful tool at arms length without adding another part to your kit. The included beater is a full-size (20cm) professional model made of polished stainless steel. Mounts to a standard cymbal stand.
Specifications
Beater: 8"
Three sizes are 4"; 5"; and 6".
Features
Mounts to a standard cymbal stand
Satin chrome finish
Graduated triangle diameter
Heated steel alloy
High-carbon steel
WARNING: Cancer and Reproductive Harm www.P65Warnings.ca.gov.