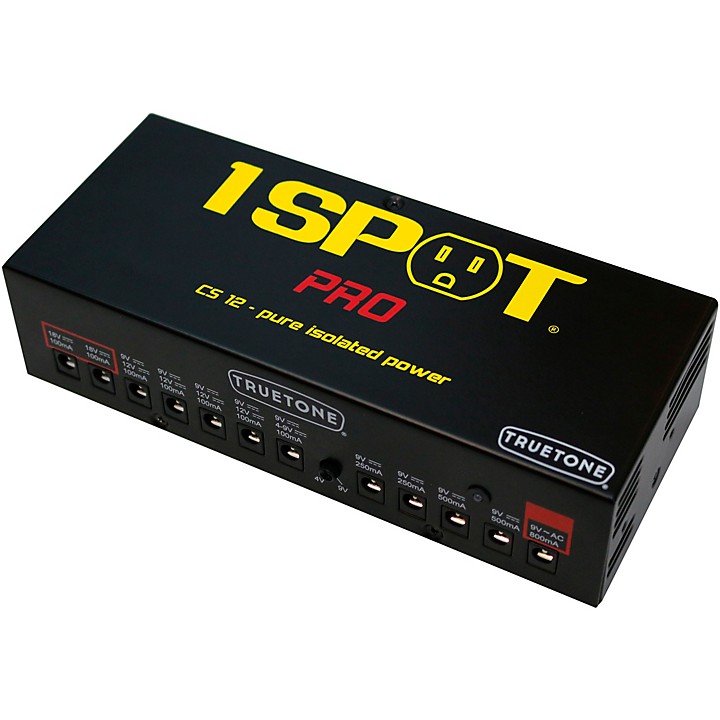 Power up to 12 of your pedals with ease.
The Truetone 1 SPOT Pro CS12 power supply can provide three times as much power to your pedals as transformer-based power bricks. Each of the 12 outputs are completely isolated, regulated and filtered to give you noise-free performance. With no transformer to hinder its abilities, there is never any proximity noise. And being the world's first multi-output switching power supply for musicians, it will work anywhere in the world without modification.
Specifications
Outputs
Outputs 1-2: 18VDC (100mA each)
Outputs 3-6: 9VDC or 12VDC (100mA each)
Output 7: 9VDC or variable 4-9VDC (100mA)
Outputs 8-9: 9VDC (250mA each)
Outputs 10-11: 9VDC (500mA each)
Output 12: 9VAC (800mA) - Be careful. This only for pedals that can handle AC voltage. If your pedal can use a battery, do NOT use this output.
Power cables (all are center pin negative polarity):
(2) DC26 (5.5x2.1mm barrel plugs; 26" (660mm) – Purple
(2) DC22 (5.5x2.1mm barrel plugs; 22" (559mm) – Blue
(4) DC18 (5.5x2.1mm barrel plugs; 18" (457mm) – White
(3) DC12 (5.5x2.1mm barrel plugs; 12" (305mm) – Yellow
(1) AC21 (5.5x2.5mm barrel plugs; 21" (533mm) – Red
Converter Plugs:
(1) CL6 – (5.5 x 2.1 mm barrel input, 5.5 x 2.5 mm barrel output; reverse polarity)
Green – for Line 6 DL4/M9/etc. and some Eventide pedals.
(1) CYR – (5.5 x 2.1 mm barrel input, 5.5 x 2.1 mm barrel output; reverse polarity)
Red – reverse polarity converter
(2) C35 – (5.5 x 2.1 mm barrel input, 3.5 mm male output; tip positive)
Black – 3.5mm (1/8") plug converter
(1) CBAT – (5.5 x 2.1 mm barrel input, black battery clip output)
Connects to battery clip wires inside pedals that do not have DC jacks. Do NOT connect to a battery.
Includes mounting brackets for Pedaltrain pedalboards
Dimensions: 8.12" x 3.37" x 2" (206 x 86 x 50 mm)
Weight: 2.35 lb. (1.06 Kg.)