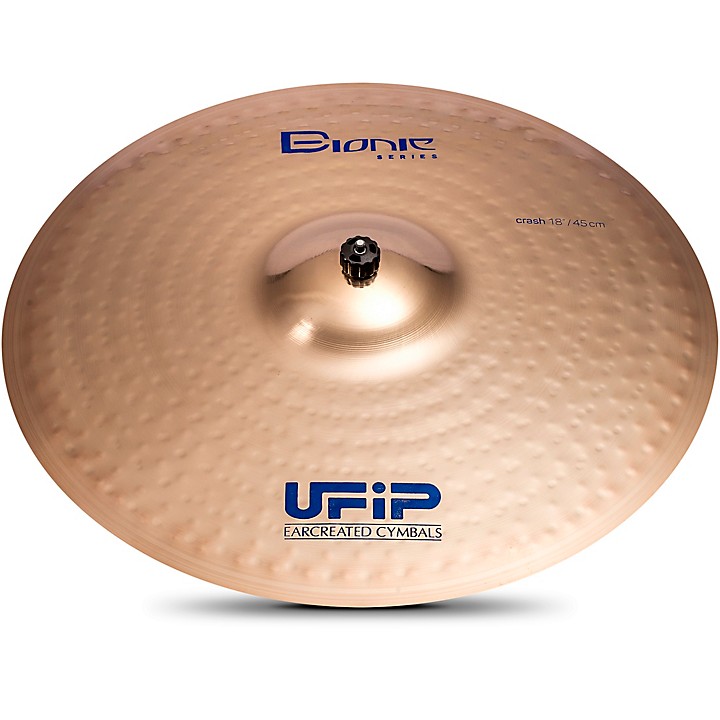 Handcrafted for a versatile ride sound that's warm and dynamic.
The BIONIC Series Crash cymbal delivers a modern, powerful sound that's bright and warm. It's handcrafted using UFIP's Rotocasting® technique, and the cast bronze B20 alloy is deeply hammered in strategic points for pleasing overtones, excellent sustain and a wide dynamic range. The UFIP Bionic crash is ideal for hard rock, rock, metal and even fusion—any genre that requires you to cut through the mix.

The BIONIC Series has evolved into an even more exciting and musical range with a new twist on the original Bionic concept, making this series even more contemporary and totally up to date. A truly stunning playing experience for the rock and metal drummer that requires a real musical cymbal. These cymbals are faster and more dynamic, but still retain the power and cut of the original Bionic Classics. The Bionic sets a new standard, simply awesome! Hammered especially deep and wide, then polished to a lustrous golden finish, giving the cymbal added warmth, richness and tonality, the new Bionic Series offers great control and versatility in any musical environment.
Features
Cast Bronze B20 alloy
Cast using the Rotocasting® procedure, completely handmade, deep hammered with double punch, hand polished
Powerful, bright and warm with many overtones, wide dynamic and sustain
Works for hard rock, rock, heavy metal and fusion
Available in 16, 17, 18, 19 and 20 in. sizes