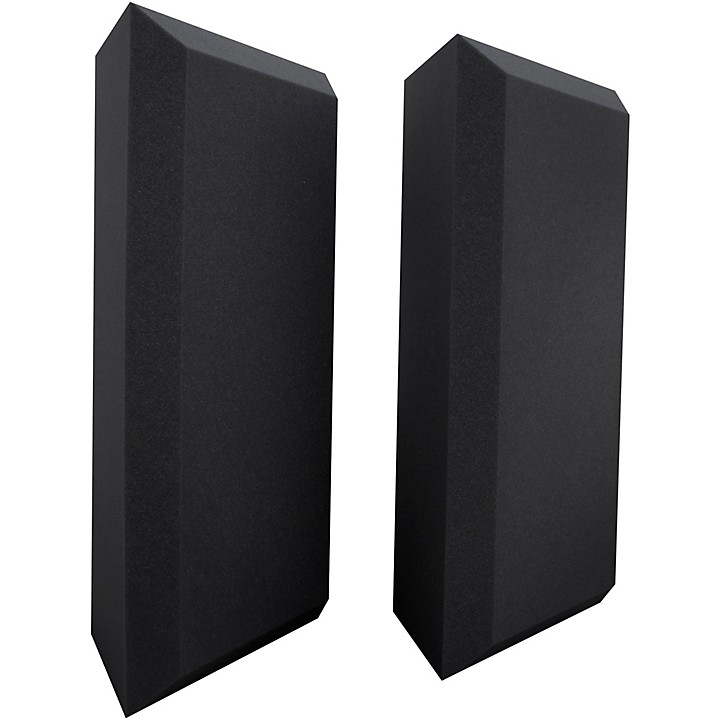 Acoustic panel treatment for professional and home studios.
Let's face it, most rooms were designed and built to house furniture and other box-type things. All that "squareness" provides the perfect environment for the low frequencies from your mix, songwriting or rehearsal to build up in the corners of your space. Ultimate Acoustics' UA-BTB is a professional bass trap that reduces the effects of standing waves in your room—controlling and absorbing all that nasty rumble that gets in the way of you hearing your music accurately. With an elegant beveled finish, the UA-BTB looks every bit as great as it performs.

NOTE: Samples of Ultimate Acoustics studio foam products have been commercially tested, meeting the criteria for a Class-B rating. Color fading may occur with UV exposure over time. Sunlight and direct light from standard bulbs should be avoided. Color fading not covered by warranty.
Specifications
Part Name: UA-BTB
Part Number: 17615
Height: 24"
Corner Bass Trap
Design Style: Bevel
Color: Charcoal
Features
Professional bass traps for controlling room nodes
Two per box
Color: Charcoal
Height: 24"
Design Style: Bevel