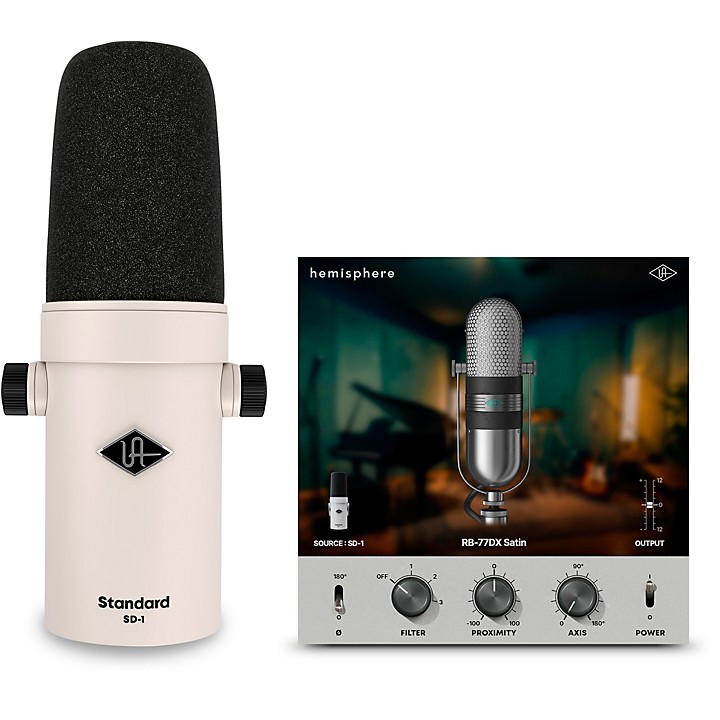 Capture your best, every time.
The SD-1 is Universal Audio's flagship dynamic microphone for recording and live use, featuring a cardioid polar pattern, selectable low cut and articulation boost switches, and Apollo channel strip presets for instant pro sound. With the SD-1 Standard dynamic microphone, you can capture vocals, instruments, livestreams and podcasts like a pro, quickly giving you polished, broadcast-ready studio sound.

Get pro vocals, anywhere

The SD-1 delivers studio-grade sound and style, no matter where you record. It's tailor-made for close-miked speech and vocals, with a simple dynamic design that naturally rejects background noises like fans, refrigerators and noisy bandmates.

Shape your sound with quick controls
Reduce rumble and mud from recordings with the SD-1's selectable low-cut filter. And with its enhanced articulation boost, vocals and instruments will instantly stand out with added presence.

Deck out your desktop studio
With a sleek modern design and rear-mounted XLR jack for easy cable runs, the SD-1 will instantly level up your production space. Whether it's music, podcasts, livestreams or Zoom meetings, your new go-to home studio mic has arrived.

Capture your best recordings yet
The SD-1 features an internal shockmount and built-in windscreen, meaning your recordings and livestreams will automatically sound cleaner, with less handling noise and breath sound.
Specifications
Microphone type: Dynamic
Polar pattern: Cardioid
Frequency range: 50Hz–16kHz
Sensitivity: –58dB (1.3mV) ref 1V at 1 Pa, 1kHz
Output impedance: 200 ohms
Recommended load impedance: > 1 kohms
Adjustable controls: Low-cut filter (200Hz): off, on
Articulation boost: (3–5kHz): off, on
Connector: 3-pin XLRM
Included accessory: 5/8" to 3/8" thread adapter
Dimensions: 7.68" length, 2.36" diameter
Weight: 1.6 lb.
Features
Capture close-miked vocals and instruments with a classic dynamic cardioid mic
Get natural-sounding recordings with SD-1's flat, wide-range frequency response
Add clarity and presence with low-cut and enhanced articulation boost switches
Shape vocals and instruments with included SD-1 Apollo channel strip presets