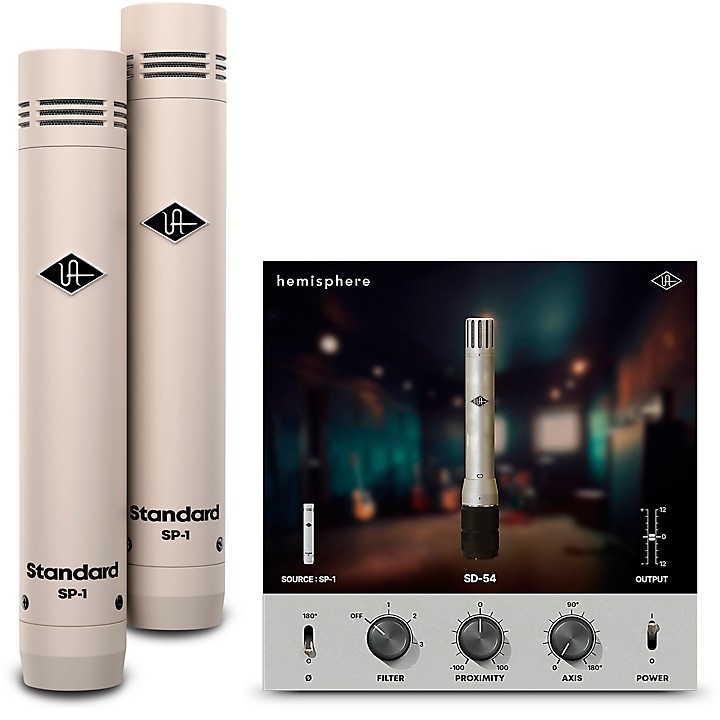 A matched stereo condenser pair with vintage vibe.
With the Universal Audio SP-1 small-diaphragm condenser pair, you can record acoustic instruments, drums and percussion, and live performances in stereo, with pristine fidelity for instant album-quality sound.
The Perfect Pair for Stereo Recording
As a matched stereo pair, the UA SP-1 adds clarity, width, and dimension to your recordings. Whether it's tight X/Y patterns or spaced pairs, combine them how you want and hear the detail in instrumenta like never before.
Capture Your Best Sounds, Anywhere
The SP-1's classic cardioid design, high SPL tolerance, and smooth, clear top-end deliver consistently clean capture of acoustic guitars, drum overheads, percussion, horns, and more—at any volume, in any environment.
More Than your Average Pencil Mics
Universal Audio engineered the SP-1 pair to be an everyday workhorse choice for stereo recording. With a retro finish and road-worthy build, these stylish condensers are a serious studio upgrade, with a vintage look that adds to the vibe.
Sound Like the Pros with Apollo Interface Presets
Take the guesswork out of getting professional sounds with custom Apollo SP-1 presets. Get the perfect EQ settings for adding shimmer to cymbals, or bolster horns and stringed instrument recordings with rich stereo sound.
Specifications
General:
Microphone Type: Matched small-diaphragm condenser pair
Polar Pattern: Cardioid
Frequency Range: 20 Hz – 20 kHz
Sensitivity: -38.0 (12.6 mV) ref 1V at 1 Pa, 1 kHz
Output Impedance: 200 Ohms
Recommended Load Impedance: Greater than 2K Ohms
Output Connector: 3-Pin XLRM
Maximum SPL: 142 dB SPL, 1% THD
Phantom Power Requirements: 48 VDC
Dimensions: 5" (128 mm) length, 0.93" (23.5 mm) diameter
Weight: .28 lbs (125 g)
Included Accessories:
Two (2) Mic Stand Mounts
Stereo T-bar
Two (2) Foam Windscreens
Two (2) ⅝" to ⅜" Thread Adapters
Features
Capture stringed instruments, drums, and more with a matched condenser pair
Smooth top-end for clear, professional stereo recordings in any environment
Retro-style, road-worthy small-diaphragm condenser pair, perfect for any mic locker
Get professional sound easily with the included Apollo SP-1 presets