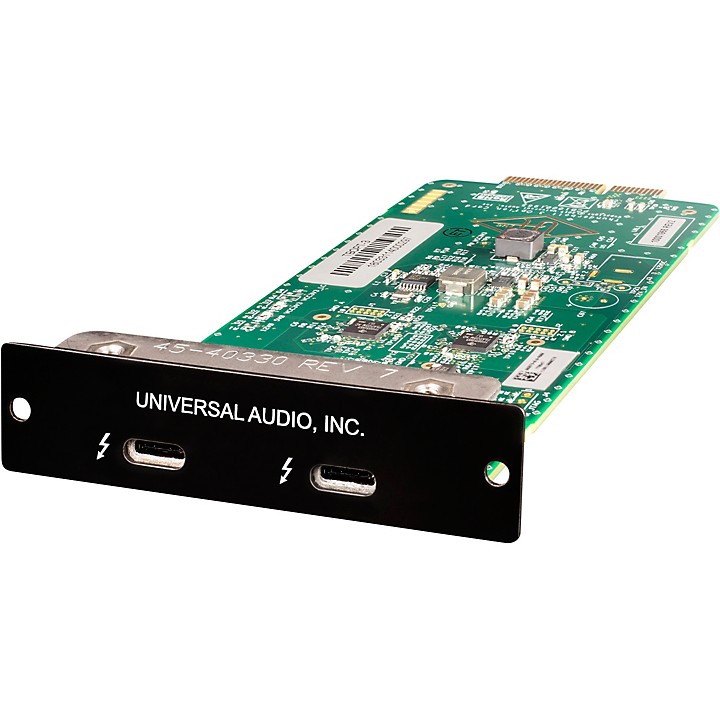 Delivers high bandwidth, low latency connectivity for Apollo interfaces to Thunderbolt 3-equipped Mac and Windows systems.
Compatible with Intel's new Thunderbolt 3 technology on the latest Mac and Windows computers, the Thunderbolt 3 Option Card for Apollo rackmount interfaces allows music producers to connect Apollo directly to their computer using Thunderbolt 3. It also supports daisy-chaining other Thunderbolt devices such as additional Apollo interfaces, UAD-2 Satellite Thunderbolt, hard drives, monitors and more.

The user-installable Thunderbolt 3 Option Card includes two Thunderbolt 3 USB-C ports and easily slides into the expansion bay of any Apollo audio interface. Bus power is provided to all downstream Thunderbolt 3 peripherals.

Features
User-installable Thunderbolt 3 Option card for Apollo rackmount interfaces
Two Thunderbolt 3 USB-C ports for daisy-chaining Apollos or peripherals
Thunderbolt 3 delivers up to 40 Gbps for high bandwidth peripherals such as dual 4K displays and hard drives
Provides 15W bus power to downstream Thunderbolt peripherals
Requires macOS Sierra/High Sierra or Windows 10 w/Anniversary (64-bit Edition)