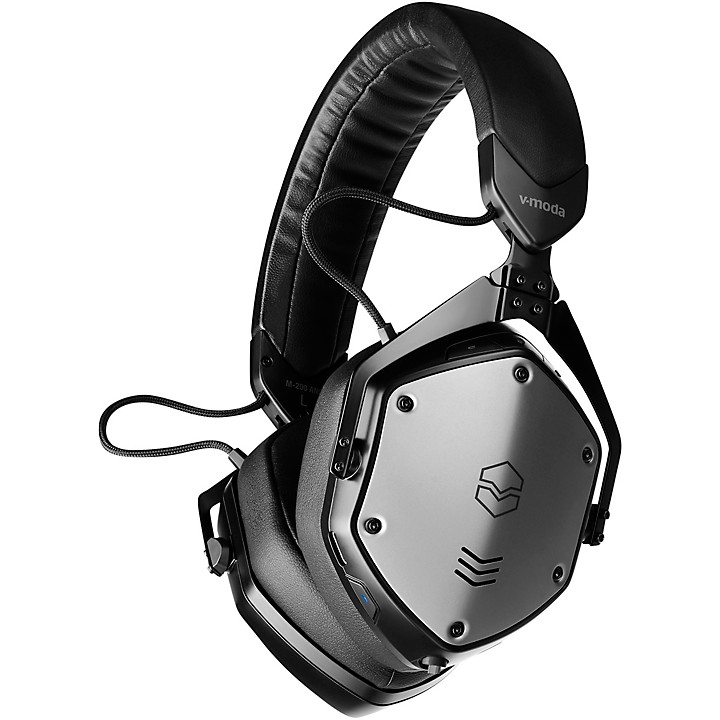 Premium wireless performance with award-winning V-MODA sound.
M-200 ANC offers award-winning V-MODA sound coupled with cutting-edge hybrid active noise cancellation. It takes V-MODA customization to a whole new level, enabling you to customize how your headphones sound just as much as how they look.

Built to work with the V-MODA app, M-200 ANC enables you to enjoy a personalized audio experience for 20 hours on a single charge, with auto power off modes to help you get the most out of your day. Adjust your level of noise cancellation in-app and customize your EQ settings to create your own personal sound signature tailored to whatever you're listening to.

While creating your custom sound, M-200 ANC enables you to get completely lost in it with its hybrid active noise cancellation which can be adjusted to 10 different levels. A combination of feed-forward and feed-back microphones work together to make M-200 ANC's noise cancellation as adaptive as possible, intelligently neutralizing outside distractions to envelop the wearer in their sound only.

Control your audio, answer calls and access voice assistants with an intuitive interface designed to make life flow a little more seamlessly. Cover the left earcup to activate the "Voice In" feature, lowering the volume momentarily and pausing your ANC for moments that require your attention.

While soft to the touch with a 100% premium polyurethane leather exterior, M-200 ANC is extremely durable thanks to a metal-build core and flexible headband. Large ear cups and replaceable magnetic memory foam cushions complete the M-200 ANC's incredibly comfortable design to make it perfect for "all day, every day" wear.

Lightweight and featuring a CliqFold hinge, the M-200 ANC fold effortlessly into their protective Exoskeleton carry case so they're ready to hit the road when you are. M-200 is available in stylish Matte Black and includes the Audio Only Cable for quality listening with zero latency, a USB-C charging cable and a flight adapter.

Features
Customizable audio experience featuring V-MODA award-winning sound (50+ Editors' Choice Awards) controllable via the in-app EQ tool
10 levels of hybrid active noise cancellation controllable via the V-MODA app
Lightweight metal build, flexible headband for the most comfortable fit possible and tested to the strictest V-MODA durability standards
"Voice In" smart feature to momentarily lower volume and pause ANC for moments that require your attention
20 hours of ANC-activated playback in a single charge, with 10 minutes of FastCharge getting you 1.5 hours when you're in a hurry
Bluetooth 5.0 and audiophile-grade audio codecs such as Qualcomm aptX HD and AAC
40mm drivers produce vibrant audio with piercing clarity which is Hi-Res Audio certified by Japan Audio Society when wired
Large, replaceable magnetic memory foam cushions and 100% polyurethane leather headband for hours of pure comfort
Flat-folding CliqFold hinge and re-designed case for easy portability
Control audio, answer calls and access voice assistants via an intuitive user interface
Includes an Audio Only cable for zero-latency listening, a USB-C charging cable and a flight adapter
Customizable shields with laser engraving and color printing customization available
Closed-back, over-ear, minimalist design for perfect noise isolation and fit