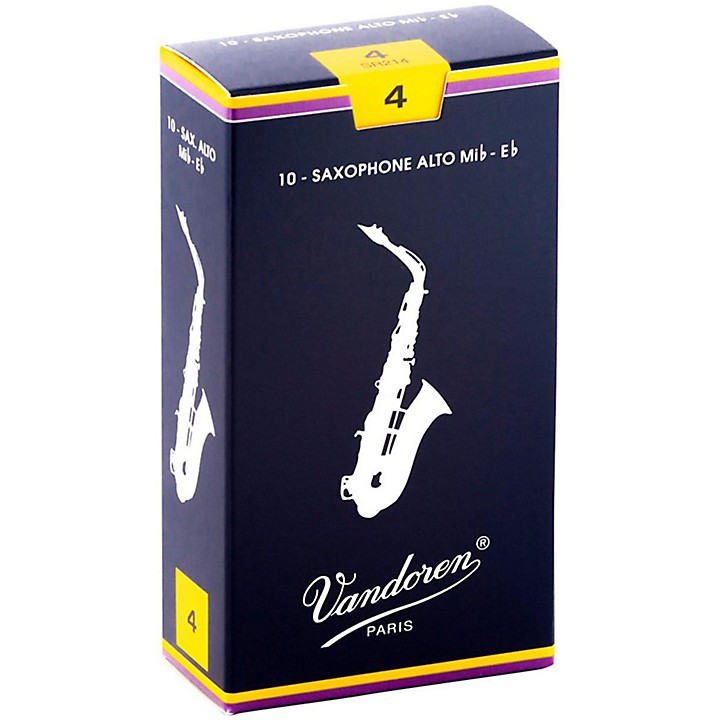 An industry-standard alto saxophone reed.
Introducing the SR21 Traditional Alto Saxophone Reeds from Vandoren, a company with over 100 years of experience crafting the highest-quality woodwind reeds. The Vandoren SR21 reeds deliver a warm, centered tone with instant vibration and response for alto sax players of every skill level. These top quality reeds are made in France using traditional methods and the finest cane.

At the heart of the SR21's superior sound is a thin yet dense tip that maximizes vibrations, resulting in a crystal clear tone that is darker and fuller than comparable reeds. This construction, combined with Vandoren's meticulous quality-control standards, gives the SR21 reeds a richness of overtones and flexibility that encourages expressiveness.

With eight available strengths, from 1.5 to 4, the SR21 reeds cater to saxophonists of every skill level. Softer reeds are ideal for beginners and students, providing an easy response with minimal resistance, while harder reeds offer more projection and tonal control for advanced players. No matter your ability, Vandoren has an SR21 reed to match.

To ensure quality, each SR21 reed is sealed in an airtight plastic sleeve. And thanks to Vandoren's time-tested construction methods, these reeds deliver consistent, reliable performance over a long lifetime. For alto sax players seeking tone, response, and durability, SR21 Traditional Reeds are an ideal and affordable choice.


Features
Top-quality reeds made from the highest-grade cane
Eight available strengths produce a warm, centered tone with excellent response for players of all levels
Traditional cut designed for a free-blowing feel with instant vibration
Sealed in an airtight plastic sleeve to ensure freshness
Made in France using traditional methods for over a century