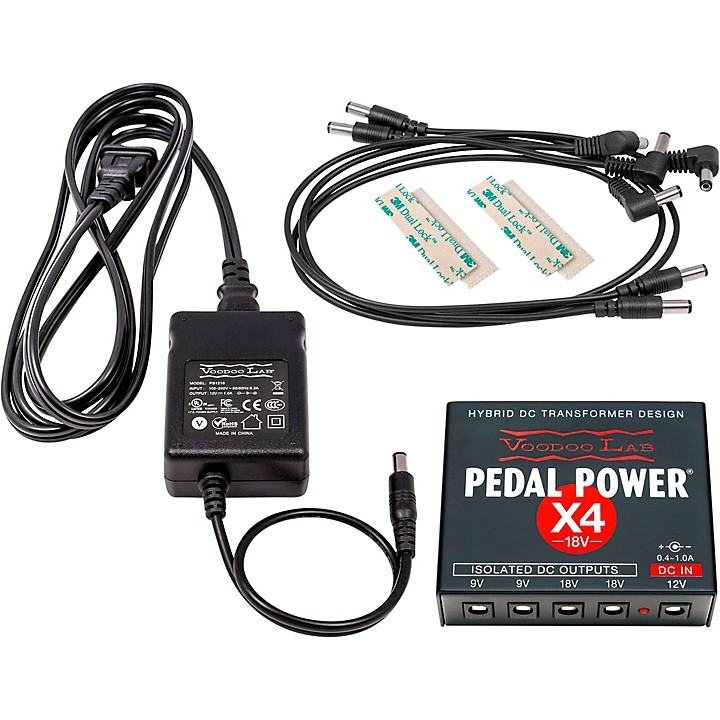 Perfect for international touring.
The Voodoo Lab Pedal Power X4-18V is a professional isolated power supply
for both battery operated and high current DSP effects. Its ultracompact size
fits even the smallest pedalboards—including Voodoo Lab Dingbat TINY and
Pedaltrain Nano—and operates at any mains voltage for international touring.
X4's innovative hybrid DC transformer design incorporates exotic components,
linear regulation, and computer optimized filtering to establish industry-leading audiophile quality power that unveils the hidden sonic potential of your rig.
Pedal Power X4 also shines as a supplementary power supply in an expanding rig. Powering directly from a Pedal Power 3 XLink expansion port or any 12V 400mA DC output, X4 adds four isolated outputs to an existing Voodoo Lab power supply.
Specifications
Product Dimensions: 3.38" x 2.75" x 1" (86 x 70 x 25 mm)
Product Weight: 4 ounces (0.1 kg)
AC Adapter Dimensions: 2.63" x 1.88" x 1" (67 x 48 x 25 mm)
AC Adapter Weight: 2.4 ounces (0.07 kg)
Hand-built in the U.S.A.
5-year warranty
Features
Four high current isolated outputs • 2 x 9V, 2 x 18V
Ultra-compact design easily mounts to the smallest pedalboards
Powers battery operated and high current DSP
Innovative DC transformer topology sets new benchmarks in
power supply performance
Advanced filtering and linear regulation ensure noise-free audiophile-quality power
100-240VAC operation for hassle-free international touring
Supplies a total of 1000mA using included AC adapter - 500mA
max per output
Powers from Pedal Power 3 X-LINK expansion ports or any 12V DC out with a minimum of 400mA
Includes Universal input voltage AC adapter, power cables, and 3M Dual Lock for mounting