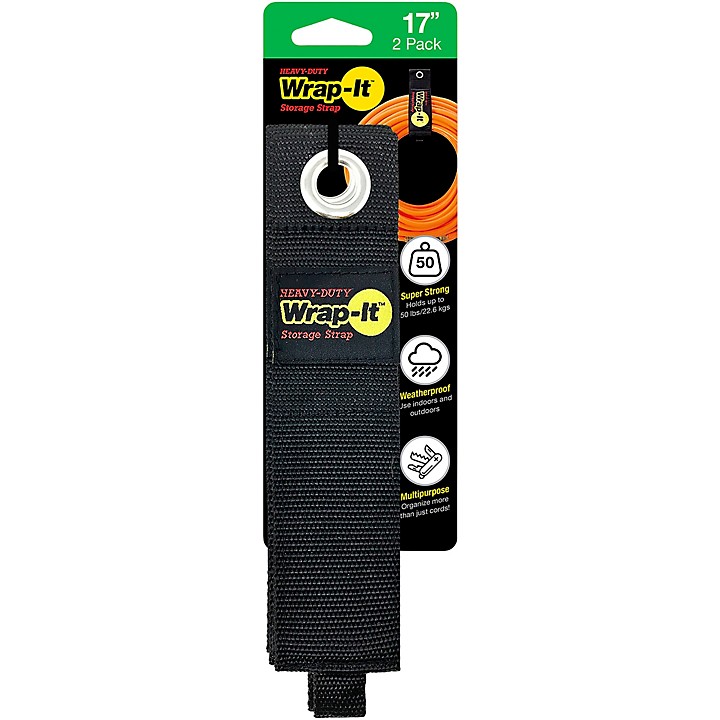 Organizational solutions to keep your space looking neat.
This 2-pack of 17" heavy-duty Wrap-It storage straps offer a perfect storage solution for your cords, hoses, ropes and other gear. The multi-purpose cable straps help you organize, hang and store your gear. The storage straps are made with heavy-duty, weather-resistant polypropylene and are built to last. Use them to hold gear that weighs up to 50 lb., thanks to the industrial strength hook and loop fastener. The rust-resistant grommet is also weatherproof, allowing for both indoor or outdoor use. The easy-open tab makes organizing your garage, shop, shed, RV, boat or truck super simple.

Specifications
Recommended Uses
Extension cords: 50' to 100'
Garden hoses: 25' to 50'
Shop vac hoses
Pressure washer hoses
Air hoses
Rope
IncludesProduct Measurements
WxL (per strap): 2"x17"
Max. wrapping capacity (circumference): 16"
Max. wrapping capacity (diameter): 5.1"
Grommet opening: .63"
Features
Super Strong: Holds up to 50 lb./22.6 kg.
Weatherproof polypropylene material and rust-resistant stainless steel grommet
Multi-purpose
Includes: (2) 17" x 2" heavy-duty Wrap-It storage straps