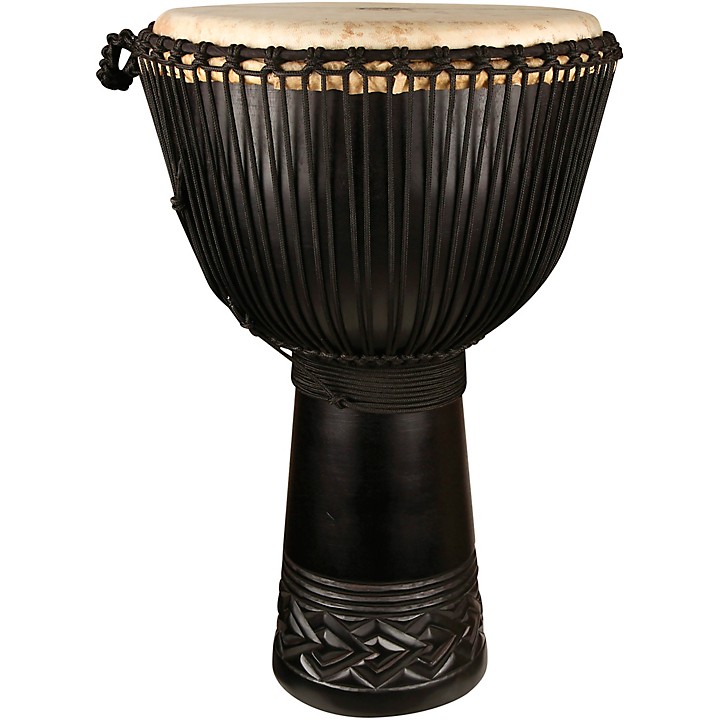 Hand-carved design with high-quality materials produces warm tones.
The Black Stallion Pro djembe drum is a professional-level djembe that sounds absolutely fantastic and is built to perfection. Made with the utmost care and attention to detail this djembe is a hand-carved beauty that is not only stunning but a true work of art. Each drum is made from solid, legally harvested, government-inspected and -certified mahogany logwood. The log is lathe turned for uniform thickness with lateral groove/rough surfaced carvings on the interior bowl to reduce overtones.

The natural, unbleached goat skin drum head is fixed in position with a 3-ring system for stable, longer lasting tuning. Because the drum heads are not bleached, the tone will be warmer and each will have unique visual characteristics based on the hide selected.

The tuning rope is low stretch alpine nylon HTB 5 mm.

Note on sizing: The sizes listed are the average measurements for that model drum (head diameter x drum height, measured outer-ring to outer-ring and top of drum head to bottom of drum base). Since every drum is hand carved, the measurements can vary by up to 1".