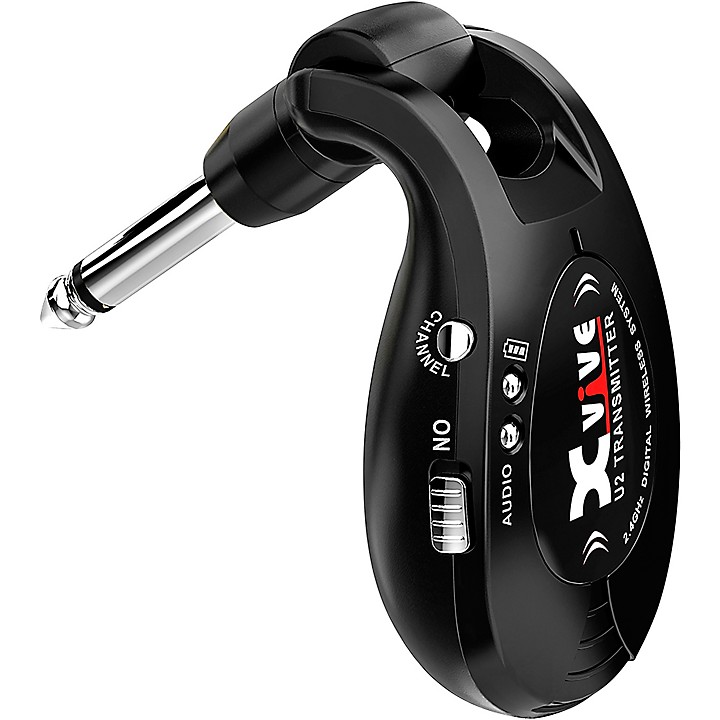 Easily switch between axes wirelessly at the gig.
For multiple guitar set-ups, the XVive U2TX transmitter allows you to easily switch between guitars. For peace of mind on stage, the U2TX transmitter is designed using rugged construction with easy-to-use controls so you just need to perform.

Featuring digital wireless technology, the Xvive U2 wireless transmitter delivers a full 20Hz-20kHz frequency response without any signal dropout. Simple to use and a with long battery life, the Xvive U2 will become your main wireless so you experience the freedom to move about the stage. Another benefit is that the Xvive is so compact you can transport it in the compartment of your guitar case.

The Xvive wireless system operates via 2.4GHz ISM band for crystal clear broadcasting ensuring the integrity of your signal and can cover 100 feet of range (line of sight) without signal dropout. The rechargeable Li-Ion batteries make the U2 environmentally friendly and each charge can last up to 5 hours. The transmitter is made out of a durable ABS plastic and the built-in jack rotates 300 degrees to easily and comfortably fit most every instrument.
Specifications
100' range
2.4GHz ISM transmitter frequency
20Hz–20kHz frequency response
Li-Ion battery power
Up to five hours of battery life