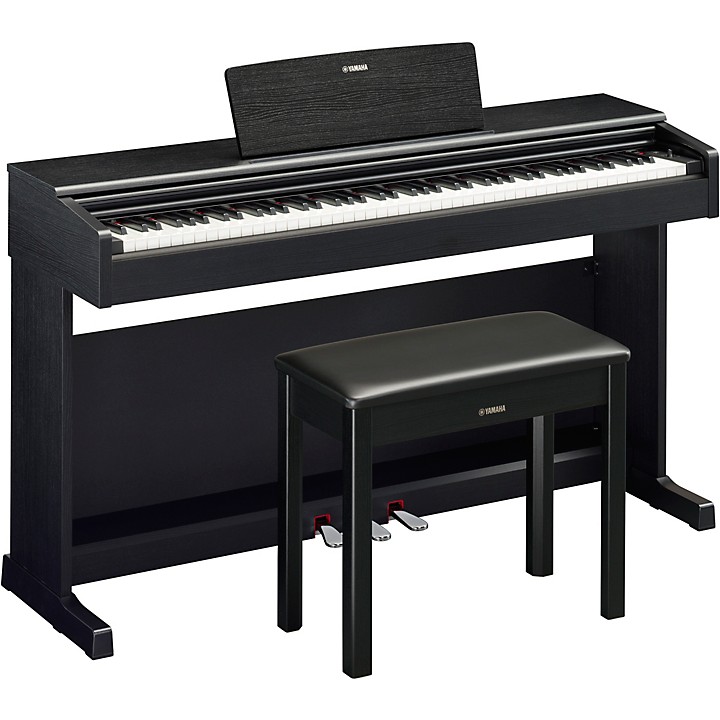 A console digital piano with the familiar feel and sound of an acoustic instrument.
Serving as the entry-level offering in its series, the Yamaha YDP-105 provides authentic sound, natural touch and an absolute joy to play in an advanced, yet affordable console digital piano. Attractive black walnut cabinetry and Yamaha's legendary heritage in piano craftsmanship set it apart from other console digital pianos in its class. GHS weighted action is heavier in the low keys and lighter in the high keys, just like an acoustic piano. The AWM (Advanced Wave Memory) Dynamic Stereo Sampling engine recreates the realism of an acoustic instrument, reproducing its dynamic nuances by recording samples of various playing strengths.

Damper Resonance DSP recreates the sound of the inside of a grand piano when the dampers are off the strings. Volume Limiter lowers the overall volume of the instrument, so that you can protect your hearing—with or without headphones. The Smart Pianist app not only gives you full control over your piano's major functions, but also analyzes your favorite songs right out of your music library using chord tracker technology. Dual mode lets you combine two voices together, like piano and strings, for an inspiring new playing experience. Duo mode splits the keyboard into two halves, each with their own "middle C" for practicing with a partner. The three-pedal unit features continuous sustain, sostenuto and soft functions, for a total piano experience.
Specifications
General
Keys: 88
Pedals: 3 (sustain, sostenuto, soft)
Sampling engine: AWM (Advanced Wave Memory)
Wood: Black walnut
Damper Resonance DSP: Yes
Chord tracker: Yes
Volume limiter: Yes
Duo (split) mode: Yes
App: Smart Pianist
Dimensions and Weight
Dimensions (WxDxH): 53-7/16" x 16-5/8" x 38-1/8"
Weight: 82 lb. 11 oz.
Other
Country of origin: Indonesia

Features
GHS weighted action keys recreate the dynamic feel of an acoustic piano
AWM Dynamic Stereo Sampling engine provides realistic nuances using samples of various playing strengths
Included accessories
BV108BK bench
Owner's manual
PA150 power adapter