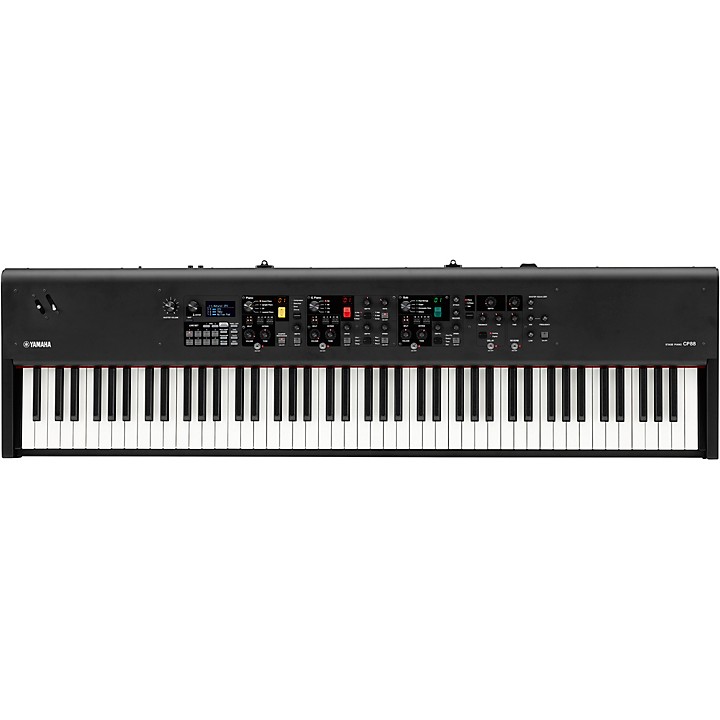 Realistic sounds and a professional piano feel.
Powered by over 100 years of piano craftsmanship and 45 years of synthesizer innovation, the CP88 stage piano boasts authentic acoustic and electric piano sound, realistic piano touch and an intuitive one-to-one user interface. The CP88 is for the discerning pianist needing fast, accurate touch response. The triple sensor, natural wood keys provide grand piano weight and response while synthetic ebony and ivory keytops provide tactile grip during extended playing sessions.

Ultra-Realistic Sounds
Yamaha Premium Acoustic Grand Pianos
CP88 features three premium concert grand pianos: the Yamaha CFX, Yamaha S700 and the Bösendorfer Imperial 290. These pianos provide full dynamic expression and nuance through meticulous recording and voicing.

[ CFX ] With over 17 years of development, the Yamaha CFX is our flagship 9' concert grand piano. The CFX offers sparkling highs, powerful bass with incredible dynamic range and the strength to project over a full symphony orchestra.

[ Bösendorfer ] Bösendorfer is unique amongst piano makers as the only manufacturer in the world still utilizing the Viennese handcrafted design tradition. This produces warm bass, singing treble and rich tonal colors known as the "Viennese Sound." The 9.5' 8-octave Imperial 290 is the flagship of Bösendorfer grand piano. The extended bass notes resonate with every key you strike, and the massive soundboard supports projection at all frequencies.

[ S700 ] The S700 is a handcrafted acoustic grand piano built by Yamaha master artisans. It has the power to cut through dense arrangements while remaining delicate and expressive in solo and sparse settings. The S700 was one of the most popular grand piano Voices from the S90ES and S90 stage synthesizer.

Yamaha Acoustic Upright Piano
[ U1 ] The UI is the most popular upright piano in the world. The CP88 U1 Voice features a vintage, well-used character. This makes it perfect for any music needing the vibe and sound of an authentic upright piano.

[ SU7 ] The SU7 is the flagship Yamaha acoustic upright piano. The SU7 delivers rich, resonant tone from shared CFX concert grand hammer specification.

Electric Pianos & Keyboards
[ Yamaha CP80 ] Yamaha introduced the CP80 and CP70 electric grand pianos in 1978 to give musicians great grand piano sound that could cut through a live band. The CP80 sound on the CP88 is powerful and fat with wide, dynamic range.

[ 76 Rd ] The 76 Rd tine electric piano has wide dynamic range, high quality and is great for FX. Suitable for all genres of music.

[ 75 Rd ] 75 Rd has a dirtier,"funkier" tine electric piano sound, great for music requiring vibe and character.

[ 73 Rd ] 73 Rd has a vintage, fat and warm tine electric piano sound perfect for ballads and accompanying singers.

[ Wr ] The Wr reed electric piano Voice offers vintage and modern versions with wide dynamic range.Organs, Clavi and Keyboards: CP88 also features a wide range of other keyboard sounds including: tonewheel, transistor and pipe organs plus clavi, FM pianos and more to cover any playing situation.

Synths, Strings and more
CP88 features synth sounds for covering any gig or session. Split, layer or solo warm pads, lush strings, deep synth basses, synth leads, brass and more. The one to one CP control interface allows real-time interaction for instant sound creation.

Special Effects
CP88 features an extensive, integrated effects section for creating your own, unique sound. Each of the three sections (Piano section, Electric piano section and Sub section) features dedicated effects. There are also master effects with delay, reverb and master EQ with dedicated controls for easy, real-time tweaking.

VCM (VIRTUAL CIRCUITRY MODELING) Effects
Virtual Circuitry Modeling re-creates the sound and behavior of vintage effects and high-end studio signal processors by modeling the circuits down to the original analog component level.

Authentic Touch and Feel
CP88: Fast, responsive keyboard action designed for piano players
CP88 features an 88-key Natural Wood, Graded Hammer, triple sensor (NW-GH) keyboard with Synthetic Ebony and Ivory Key Tops – the fastest stage piano action on the market designed by a company with over 100 years of acoustic piano-making experience for professionals who demand the best.

Natural Wood keys offer the weight and response that piano players expect. Adding different weight or "grading," the keyboard reproduces the feel of a piano's hammers: heavy in the low end and light in the high end. Synthetic Ebony and Ivory Key Tops are lightly porous which adds grip to the keys. This maintains accuracy during long performances or practice sessions.

Finally, a third sensor allows grand piano-like key repetition where notes can be re-articulated without a complete release. This makes it easier to play fast, repeated notes and is one of the main reasons pianists choose grand pianos over uprights.

Intuitive Design
Direct, immediate and total sound control
With its one-to-one interface, CP gives you direct, immediate and total control of your sound during stage or studio performance. There's no programming, menu-diving or web searching with CP. The intuitive CP interface allows fast and easy splits, layers and sound-shaping directly from the front panel.

Maximum Connectivity
CP88 connects and integrates into your home studio or live rig with onboard USB MIDI and audio connectivity.

Specifications
Control Interface
Number of keys: 88
Type: NW-GH (Natural Wood Graded Hammer) keyboard: synthetic ebony and ivory keytops
Voices
Tone Generating Technology: AWM2
Number of Polyphony (Max.): 128
Number of Voices: 57 (Piano: 10 / E. Piano: 14 / Sub: 33)
Effects
Delay: 2 types (Analog, Digital)
Reverb: 1 type (Hall)
Master EQ: 3 bands (with sweepable MID)
Insertion Effect: Piano: 2 systems (1: Damper Resonance / 2: Compressor, Distortion, Drive, Chorus), E. Piano: 3 systems (1: Drive / 2: Auto Pan, Tremolo, Ring Modulator, Touch Wah, Pedal Wah, Compressor / 3: Chorus1, Chorus2, Flanger, Phaser1, Phaser2, Phaser3), Sub: 1 system (Chorus/Flanger, Rotary Speaker, Tremolo, Distortion)
Connectivity
Line Out: OUTPUT [L/MONO]/[R] (6.3 mm, standard phone jacks, UNBALANCED), OUTPUT [L]/[R] (XLR jacks, BALANCED)
Headphones: [PHONES] (6.3 mm, standard stereo phone jack)
Foot Controller: FOOT CONTROLLER [1]/[2], FOOT SWITCH [SUSTAIN]/[ASSIGNABLE]
MIDI: MIDI [IN]/[OUT]
USB: USB [TO HOST]/[TO DEVICE]
AUX: INPUT [L/MONO]/[R] (6.3 mm, standard phone jacks)
Other
Connectors: [AC IN]
Display: Full Dot LCD (128 x 64 dots)
Additional package contents: Owner's Manual x 1, Power cord x 1, Foot pedal (FC3A) x 1
Size/Weight
Width: 1,298 mm (51-1/8")
Height: 141 mm (5-9/16")
Depth: 364 mm (14-5/16")
Weight: 18.6 kg (41 lb, 0 oz)
Features
CP88 stage pianos feature a wide range of sounds for playing any music genre
Keyboard action designed and informed by over 100 years of acoustic piano-making
Built to withstand the rigors of the road and extremely intuitive to use
Among the lightest and most compact instruments in its class, weighing just 41 pounds