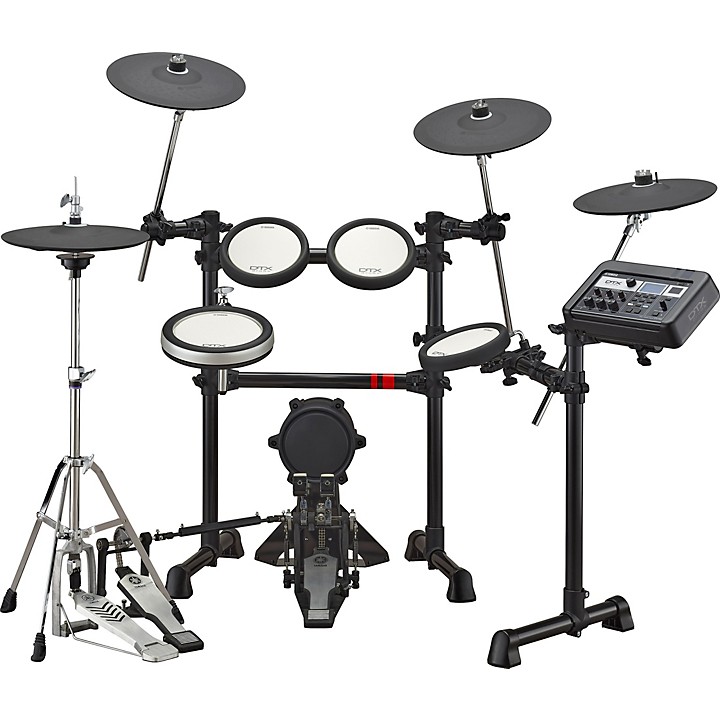 Advanced electronic drum set with TCS pads, three-zone cymbals and innovative Kit Modifier.
Yamaha DTX6 electronic drum sets are built around a robust module with innovative features created from Yamaha's decades at the top of the music world. Among other advanced capabilities, this DTX-PRO module introduces the Kit Modifier, developed by Yamaha to spark creativity and an authentic playing experience. The DTX6 series comes in multiple pad configurations to match every level of drummer.

5-Piece DTX6K3-X Configuration With Advanced Pads and Cymbals
This premium DTX6K3-X configuration offers all the features of the module with some of the best pads Yamaha has to offer, including three choke-able PCY135 cymbals—two as crashes, and one as a ride. The RHH135 hi-hat pad is mounted on a real Yamaha HS650A hi-hat stand (included) for a truly authentic playing experience. The three-zone XP80 snare pad features a TCS head to provide a natural feel and rebound, for versatile performance and expression with open- and closed-rim playability. And for this top-tier configuration, the XP70 tom pads also feature TCS heads. The KP90 kick pad completes a classic 5-piece configuration.
Intuitive Control Over Voicing
At the center of the DTX-PRO module is the Kit Modifier. Yamaha has cultivated their unique voicing over decades, creating some of the most expressive sounds in music. With the Kit Modifier, this valuable experience has been condensed into three knobs: AMBIENCE, COMPRESSION and EFFECT. With the simple twist of a dial, it is possible to express a wide range of sounds, from classic acoustic to unique electronic sounds created by professional engineers and producers. It's an effortless way to manipulate tons of complex voices all at once.
TCS Heads for Unprecedented Feel

Rather than the typical mesh or rubber, the pads on this DTX63-X kit feature Yamaha TCS (Textured Cellular Silicone) heads. Yamaha uses this proprietary head in their flagship models. The feel is designed to complement the sounds, recorded in a world-renowned studio, to create an authentic experience for all the senses. Along with the intuitive sound customization and compact pad format, these technologies create a balanced, realistic, highly functional drumming experience.
Daily Training Features for Drummers at Every Level

The rich practice functions of DTX-PRO are designed to help any drummer hone their chops. It's got a highly sophisticated metronome, programmable to help with complex time signatures and patterns. Ten training functions are perfect for improving a drummer's sense of rhythm, with a recorder function for keeping track of the progress. Players can even explore genres with 37 diverse training songs. From beginners to professionals, anyone will find useful functions for daily practice.
Rec'n'Share Brings E-Kits Into the Next Generation

Connect an iOS or compatible Android device to the module to use the Rec'n'Share app. There's no easier way to record drums over a backing track and share the results. Just pick a favorite song from the device's music library, and the app's tempo detection can add a click, change the tempo and select sections to repeat, creating a custom backing track within Rec'n'Share. When it's time to capture the performance, the app can simultaneously record video from the phone's camera, stereo digital audio from the instrument and stereo backing tracks from the music library. After recording, use the app's editing functions to trim and balance the results. Drums can also be recorded clean, with no backing track at all.
With advanced features and a convenient configuration, the Yamaha DTX6K3-X is recommended for all drummers who want to have fun, play like a pro and easily transfer their hard-earned skills to acoustic drums.
Specifications
Configuration
Tom pad(s): 3
Cymbal pad(s): 4
Snare pad: 1
Kickpad: Yes
Total pads: 9
Module
Drum kits: 40
User kits: 200
Sounds: 400
Training functions: Yes
Click: Yes
Pads
Pad material: Silicon
Zones: Triple (snare and cymbals), Single (other)
Tom pad size: 7"
Snare pad size: 8"
Hardware
Features
5-piece e-kit including KP90 kick pad and 8" XP80 triple-zone TCS snare
Three 13" PCY135 choke-able cymbals with three triggers each
HS650A hi-hat stand with realistic RHH135 hi-hat pad
Three premium XP70 tom pads with TCS heads
Advanced DTX-PRO module includes 40 kits, over 400 voices and 200 slots for customized user kits
Library of high-end acoustic drum sets recorded in a top studio, plus electronic sounds engineered by Yamaha
Kit Modifier lets players customize any sound with intuitive dials for Ambience, Compression and Effect
Ten training modes, 37 play-along songs and an advanced metronome for working on chops
Rec'n'Share smartphone app makes it easy to record both video and audio, with or without a backing track, and share online
Throne and kick pedal sold separately