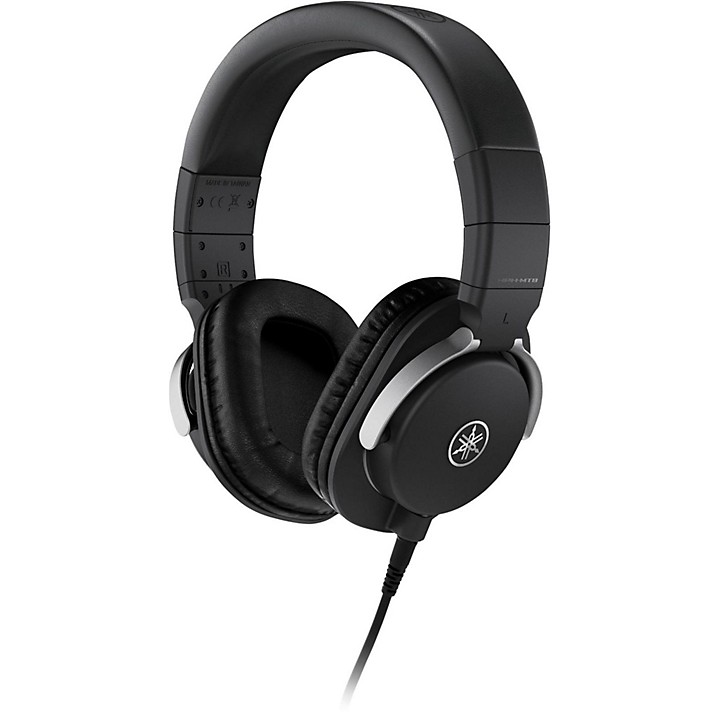 Top quality monitoring headphones.
With unmatched fidelity in a sturdy and stylish design, Yamaha's MT Series headphones offer comfort you'll be thankful for and a level of accuracy that will make the search for your signature sound easier to achieve. Whether you're tracking in studio, mixing live or listening for pleasure, MT8 features are suited to a range of monitoring environments.

High-Resolution Sound
HPH-MT series headphones deliver flat, high-resolution sound with precise stereo imaging at any sound pressure level. Yamaha has applied decades of accrued expertise in professional and high-end audio equipment manufacturing to the design of each and every acoustic component in these headphones.

Isolation and Comfort
For professional audio engineers who perform critical listening and studio recording, it is important that their headphones fit in a way that prevents fatigue during extended listening sessions, and isolation that allows concentration while working. HPH-MT series headphones provide superb comfort and isolation, and are specifically designed to meet the high standards of professional users.

Sturdy, Reliable Construction
Built for professional use, HPH-MT series headphones feature a sleek, simple construction with the durability to withstand the rigors of road travel. Whether you're recording or mixing in the studio, doing live sound for an outdoor gig, or even checking tracks on the move, the HPH-MT series headphones are a flexible monitoring solution for the professional user. The solid ABS housing, die-cast aluminum support-arms, and sweat-resistant headband ensure extended use in any working environment.

Design
HPH-MT series headphones feature a sleek, stylish design with a closed-back, circumaural configuration that provides a comfortable fit and excellent isolation. A three-dimensional arm pivot construction and adjustable slider length allows the angle of the ear pads to fit the shape of the wearer's head perfectly, helping to alleviate fatigue when working for extended periods. HPH-MT series headphones also feature moveable earcups, allowing single-ear monitoring when required.

Connectivity
HPH-MT headphones were designed to meet the connectivity needs and preferences of users in varying applications or environments. The MT8 features detachable cables, 3 m straight and 1.2 m coiled.

Features
Type
Ear coupling: Closed back, circumaural
Primary application: Tracking, live mixing
Secondary application: Listening for pleasure
Bluetooth: No
Audio
Frequency response (TX): 15Hz - 28kHz
Max SPL: 102 dB
Driver size 45 mm
Noise cancelling: No
Other
Weight: 350 g (w/o cable)
Cable type: Straight, coiled
Length: 1.2 m, 3.9 ft.
Connector: 3.5 mm, 1/4"
Built-in mic: No