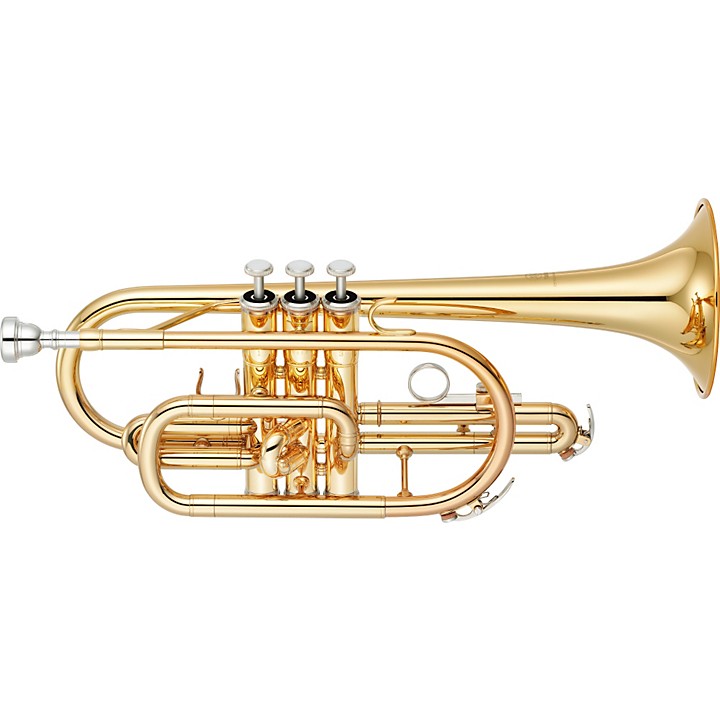 Good quality introductory cornet.
The YCR-2310III is an excellent introductory model that features a rounded leadpipe and ML (medium-large) bore for smooth and light response with a soft, warm tone. An adjustable third valve trigger accommodates different sized hands helping the player develop proper playing technique. This design was introduced early in 2012 and represents the latest in manufacturing and design considerations within Yamaha's student brass line.

The newly redesigned, durable yet light two-piece bell is made of yellow brass for optimal playability and to promote good technique and endurance. Highly durable monel alloy pistons as well as newly designed valve buttons and bottom caps help lengthen the life of the instrument while also maximizing sound quality. The 2nd and main tuning slides are produced using the same method as high-end Yamaha models, which provides stability, a more refined tonal color and added durability. The redesigned rounded leadpipe and ML (medium-large) .459" bore give this instrument a smooth and light response and a warm tone quality.

Compared to the trumpet, the cornet features a greater proportion of conical tubing, which gives it a mellow, softer tone. It is perfect for many marching environments, as well as contemporary jazz ballads. It is the standard Bb instrument used in Dixieland jazz as well, and is appropriate to any acoustic environment in which a trumpet is in danger of overpowering other instruments. It is a great instrument to learn three-valve technique on in general, and any experienced trumpet player will appreciate becoming reacquainted with the charm of the cornet.
Specifications
Level: Standard
Key of: Bb
Bore ML: .462"
Bell Diameter: 4-3/4"
Leadpipe: Gold Brass
Body Material: Yellow Brass
Bell Material: Yellow Brass; Pluzuma Welded
Weight: Medium
Key Buttons: Plastic
Finish: Gold Epoxy Lacquer; Silver (YCR-2130IIIS)
Pistons/ Valves: Nickel-plated
Mouthpiece: 11C4
Features
Affordable
Attractive
Reliable
Yellow brass bell
New pistons, valve caps and buttons
New tuning slides
Bore size and lead pipe