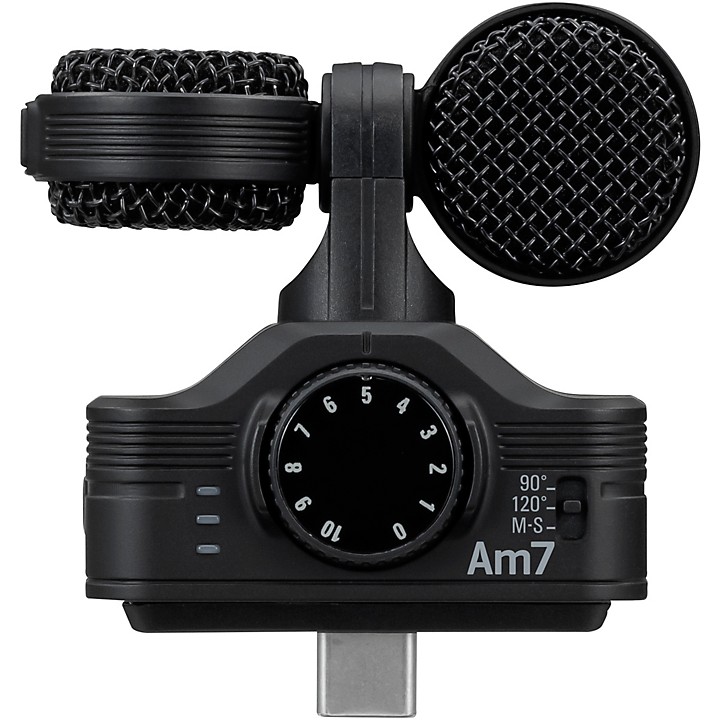 Ideal for music videos, video podcasts, vlogging and more.
The Am7 is the perfect audio-for-video companion for your Android device. Ideal for music videos, video podcasts, vlogging and more, the Am7 makes your videos sound as good as they look.
PERFECT STEREO. EVERYTIME
Choose either a 90°standard stereo, 120° for a wider sonic image, or Mid-Side for a custom stereo image.
ROTATE & RECORD
The Am7 mic position can be rotatedto align with your camera to capture audio while recording video. When recording only audio, rotatethe mic to the audio position, and point your phone like a mic to the sound you want to record
SELFIE MODE
The Am7 can also shoot in selfie mode, allowing you to be in the center of the action.To see howto convert to selfie mode,click here.*Zoom Handy Recorder App required.
LISTEN IN & ADJUST
Adjust your input level, with a large front-facing MIC gain knob and LED level meters. Use the headphone jack for monitoring your audio before, during, and after recording.
THE ZOOM HANDY RECORDER APP
Available on Google Play, the Zoom Handy Recorder App allows you to record, mix, and share audio from your Android. Uploadyour creations directly to Soundcloud or Google Drive.
Specifications
MicrophoneType
Mid-side (M-S) stereo mic (90º/120º/M-S)
Maximum input sound pressureInput gainAudio quality
44.1 kHz/16 bit, 48 kHz/16 bit
Power
Powered by connected device
Connector
USB Type-C connector
Stereo mini jack
(combined headphone/line level output)
Dimensions
54.5 (W) x 57.2 (D) X 26.5 (H) mm
Weight
Features
High-quality mid-side microphone that connects to Android devices
Stereo width control
Two modes: Audio and Video
Flip to record with the selfie camera
Works with theZOOM Handy Recorder App and other audio and video capture apps
Audio monitoring without latency when using the ZOOM Handy Recorder app
WARNING: Cancer and Reproductive Harm www.P65Warnings.ca.gov.