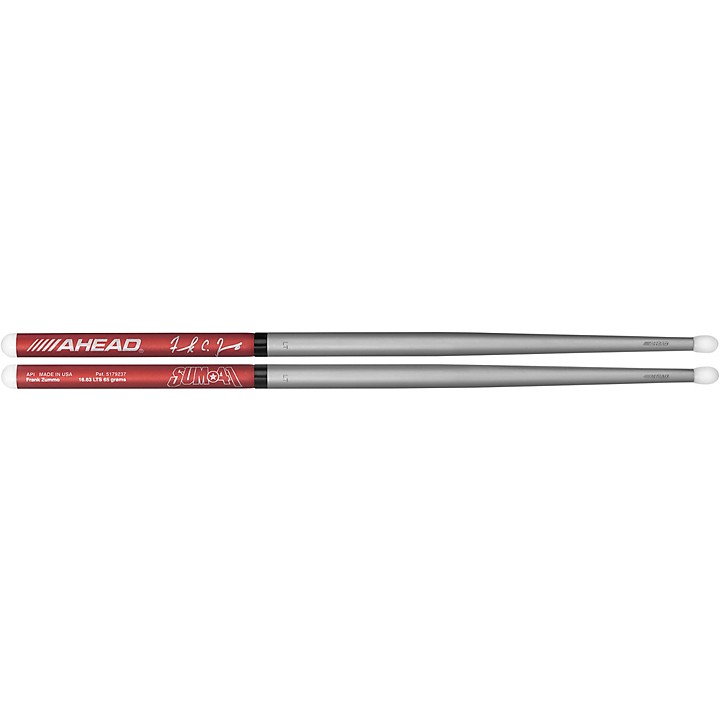 Designed for the high-intensity playing of Frank Zummo.
Frank Zummo had been using Tommy Lee's Studio drum sticks for years, so we wanted to create something that was similar but also unique to Frank's growth as a drummer. Ahead also wanted to create something that was versatile for his many different playing styles. Frank's sticks, like all Ahead models, have alloy cores and absorb shock for less hand fatigue so you can play as hard and as long as the crowd demands.
Specifications
Quantity and Sizing (Pairs)
Quantity: 1
Type: Sticks
Drum Stick size: Custom
Diameter: .595"
Length: 16.63"
Construction and Features
Material: Aluminum core with polyurethane sleeve
Drum Stick tip: Nylon
Tip Shape: Multiple
Taper: Long
Finish: Silver/red
Other
Country of origin: United States
Grip Material: Yes
Features
Hyper-Form Engineered swaging process for a longer life span
50% less shock than wood drum sticks
Last 6 to 10 times longer than wood drum sticks
5% more rebound than wood drum sticks
High precision alloy core guarantees consistent weight and balance variations of less that 1%
Replaceable covers, tips and rings
High quality, unbreakable nylon tip provides a brighter, more articulate sound
Super-hard polyurethane replaceable covers protect your drum sticks and your gear
Ergonomically tuned handles
Built-in Vibration Control System (VRS)
Made in U.S.A.
Length: 16.63"
Diameter: 0.595"
Weight: 65 g