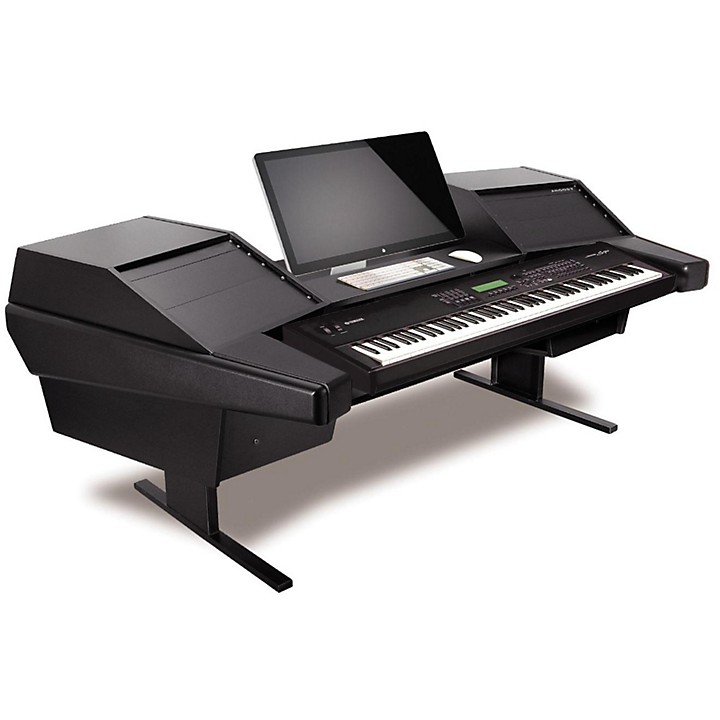 Professional workspace for keyboard-based systems.
Every studio needs a command center, and the Argosy Dual 15K-803 Keyboard Workstation is about as in command as you can get. This professional-sized workspace is perfect for keyboard-based systems. With its 94" wingspan, the Dual 15K Workstation can easily accommodate most 88-note keyboards positioned directly at the center of the player's position.

The lowered, rear monitor platform keeps your computer screen, or all-in-one desktop computer at the perfect viewing height and accessibility while playing and recording, and the solid steel leg assemblies will maintain a firm footing. Two integrated racks, one on each side of the workstation, each provide up to eight rack units of space on the front and three on the rear to hold up to a total of 22 single space rack units of you gear. The Dual15K workstation provides everything you need to be within easy reach and comfortable sight so you are free to create.
Specifications
Length: 94" - Depth: 50" - Height: 36"
Includes:
Two 1 sp. Blank Panels
One pk/100 Rack Rail Screws
Features
Two integrated racks with eight front RU and three rear RU each
Sturdy steel leg assemblies
Lowered rear monitor platform
94" length can accomodate most 88-note keyboards
Choose from solid Mahogany hardwood or black powder coated trim panels