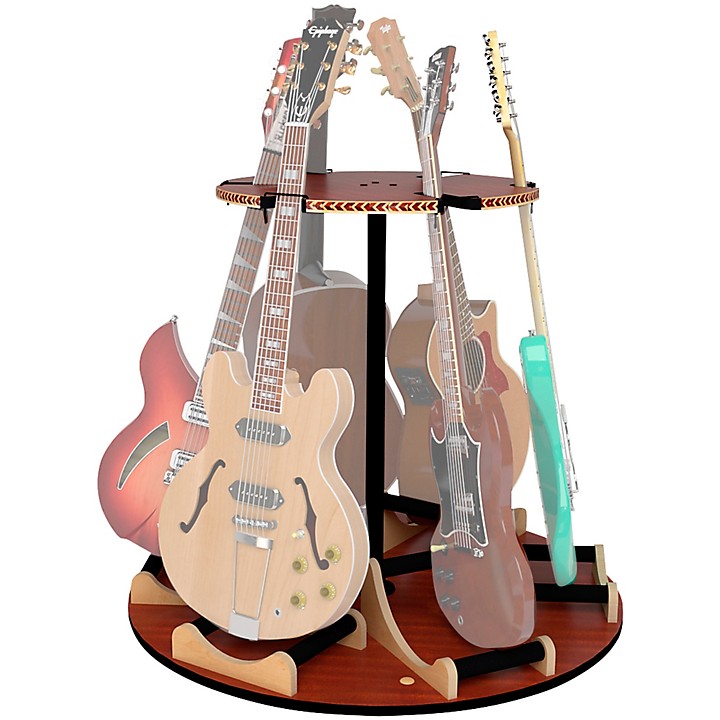 Wood furniture that keeps up to 6 instruments safe and organized.
Do you have too many guitars in too little space? Are you searching for the absolute best multiple guitar stand on the market? The pièce de résistance? Well, here it is. Introducing the Carousel Deluxe Rotating Multi Guitar Stand which can store 6 or 12 instruments in just 3 sq. feet of floor space. That is NOT a typo!

Consolidate your collection, save space and get a beautiful piece of furniture too. And if you're searching for a great gift, you'll be sure to knock it out of the park with the Carousel Deluxe.

Holds Most Popular Guitar Types
The Carousel is designed to fit most regular sized acoustics, electrics, basses and banjos too.

Rotating Base for 360° Access & Display
The supporting base can be easily rotated so you can display or access any instrument, regardless of whether the stand is in the middle of the room, up against a wall, in a corner or between two pieces of furniture. You can also secure the stand in place with the locking dowel mechanism. And our original "neck gates" keep guitar necks safely in position.

Optional Top Tier (Sold Separately)
The optional expansion tier (sold separately) can be added on so you can store 6 more instruments as your collection grows over time. No need for you to allocate any more storage space in your music room or studio where space may already be at a premium.

Nitrocellulose Safe
The Carousel is a nitrocellulose-safe guitar stand. All instrument contact points are covered with non-reactive felt. The base supports also use non-reactive foam cushioning material to protect your vintage guitars which often have a nitrocellulose finish. Unlike the Carousel, many rubber or petroleum based stands are not compatible with this type of finish and can cause deterioration and discoloration that can harm your guitar.

American-Made Craftsmanship
The Carousel is handcrafted and made in the USA, designed and built to last by a passionate team of people who deeply care about your satisfaction. It features decorative herringbone wood inlay edging and sapele mahogany wood surfaces—making it a beautiful furniture addition to your music room, studio, man cave or even retail shop.

Easy Assembly
The Carousel is easily assembled with just hex wrenches (included).

Specifications
Dimensions
Diameter: 36" x Height: 31-1/2"
Weight: 48 lb.
Features
Holds six guitars in 3" of space
Can double in height to hold 12 guitars (top tier sold separately)
Rotating base enables 360° access and display
Nitrocellulose-safe materials at all guitar contact points
Guitars sit on soft cushions
Sapele mahogany and birch
Decorative herringbone wood inlay edging
Made in the USA
Frequently Asked Questions
Q: What materials do you use where the guitars touch the rack, and is it safe?
A: Wool felt is used at all guitar contact points to keep your guitar finishes safe, especially if you have valuable guitars with a nitrocellulose finish.
Q: What is the total height of the two-tiered Carousel, when loaded with guitars and/or basses?
A: That depends on the sizes of your guitars. Smaller guitars, such as 39" Les Paul, Stratocaster or Telecaster guitars would bring the total height to about 90". When loaded with bigger guitars like a Gretsch or an electric bass, the total height could be about 96".
Q: What is suggested ceiling height for use of the two-tiered Carousel?
A: Nothing shorter than an 8' ceiling.
Q: Do you offer a version of the Carousel where all the guitars face the same direction?
A: Sorry, no. If all the guitars faced the same direction, the diameter of the round bass would have to be at least 4" bigger, to accommodate six guitars and to keep them from touching each other. The current design with a compact 36" base utilizes the empty spaces created by the wedges that the round base is divided into.