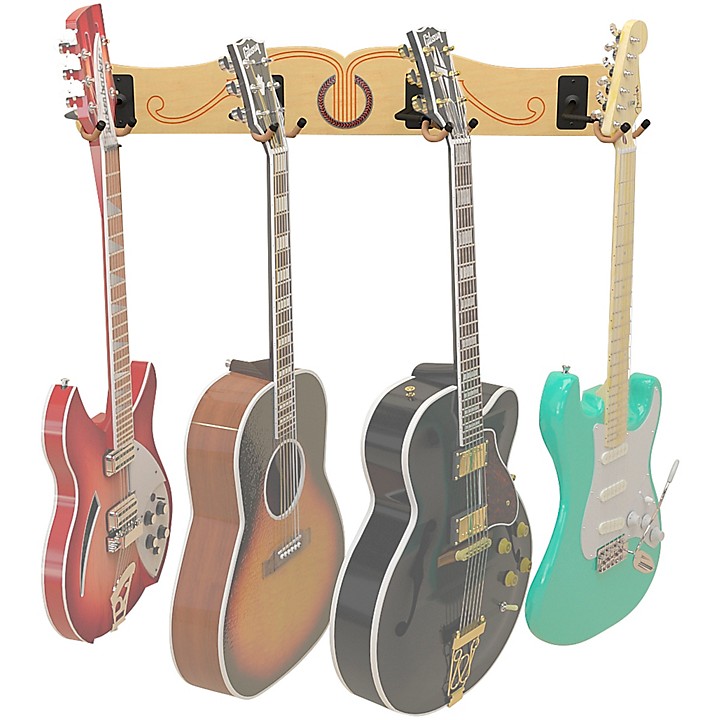 Wood construction that keeps your up to instruments safe and organized.
Looking for a beautiful wall display for your guitars? The Pro-File Wall Mounted Multi Guitar Hanger will give you easy access, allowing you to conserve space while getting your guitars off the floor and onto the wall, out of the reach of toddlers and pets. It features beautifully engraved maple hardwood, highlighted with a bronze color fill, and a custom rosette inlay and attractive V-grooved F-hole motif.

Consolidate your collection, save floor space and get a nice piece of furniture too. And if you're searching for a great gift for a guitarist close to your heart, you'll be sure to knock it out of the park with the Pro-File Multi Guitar Wall Hanger.

Holds Acoustics, Electrics & More
The Pro-File is designed to hold most styles of electrics or acoustics, solid or hollowbodies, and basses or banjos too.

Conserve Wall Space
Each of the four guitar hangers are angled to conserve even more of your wall space.

Hidden Mounting Design
All mounting hardware is included. And all screws are hidden behind the arm plates to create an all-around professional aesthetic.

American-Made Craftsmanship
The Pro-File is handcrafted and made in the USA, designed and built to last by a passionate team of people who deeply care about your satisfaction.

Specifications
Dimensions (WxH): 36" x 6"
Features
Holds electrics, acoustics, basses and banjos
Angled hangers conserve wall space
Beautifully engraved maple hardwood
Custom rosette inlay
All mounting hardware included
Made in USA
Frequently Asked Questions
Q: In the pictures, all the guitars are angled to the right. Can they be turned to the left?
A: Yes, the hangers can be easily mounted so your guitars face left. It's just a matter of rotating them 180 degrees before inserting the mounting screws. Very simple, very quick.
Q: How does it mount to the wall?
A: At least two holes to be drilled into the wall. Four is ideal but two will do it. You should find, and use, at least one stud in the wall. The wall fasteners get put through the wooden base and into the wall before the four black metal guitar hangers are attached to the wooden base.