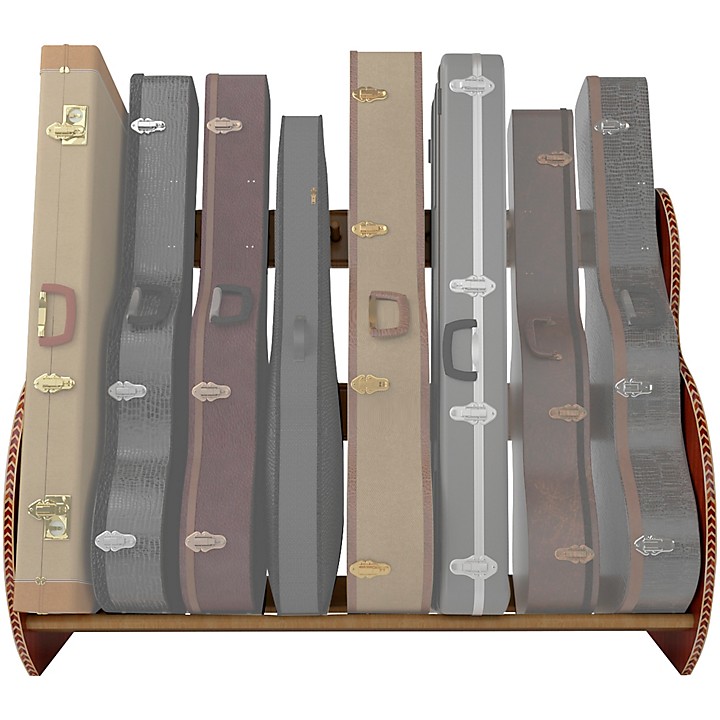 Handcrafted and American-made.
Are your guitar cases and gig bags making a mess of your home, your music studio or your closets? Behold the Special-Edition Studio Deluxe guitar case rack—the ultimate storage solution for your prized instruments. The Special-Edition model features ribbon-striped sapele-mahogany sides and red oak rails. The Studio's gorgeous wood components and herringbone inlay edging make it a beautiful, and practical, furniture piece to add to your music room.

Consolidate your collection, save space and get a stunning piece of furniture too. And if you're searching for a great gift for a guitarist close to your heart, you'll be sure to knock it out of the park with the Studio Deluxe.

Holds Acoustics & Electrics
The Studio Deluxe is designed to fit most types of acoustic and electric instrument cases including, hardshells, gig bags, molded cases and more.

Stand & Separate Your Cases
Are you tired of scuff marks on your walls or cases that result from stacking them on top of each other or squeezing them in next to each other? The Studio Deluxe comes with adjustable hardwood dowel separators that enable you to stand all different sizes and shapes of guitar cases next to each other helping to keep them upright and spaced.

Choose the Model Best for You
The Studio Deluxe is available in two sizes: the smaller version can accommodate 5-7 standard sized guitar cases and the larger version will fit 7-9. All Deluxe models feature a stunning herringbone inlay edging along the front-facing edges of the side panels.

Easy Assembly
The only tool you need to assemble your stand is just a Phillips head screwdriver.

American-Made Craftsmanship
The Studio Deluxe is handcrafted and made in the USA, designed and built to last by a passionate team of people who deeply care about your satisfaction.

Specifications
Dimensions
Small Size (WxHxD): 37-1/2" x 37-1/4" x 23-1/4"
Full Size (WxHxD): 49" x 37-1/4" x 23-1/4"
Features
Herringbone inlay edging
Hardwood rails
Hardwood dowels keep cases separated and upright
Attractive "F'-hole shaped cutout on the sides
Made In USA
Frequently Asked Questions
Q: How many inches of space are needed between the rack and the wall so that the cases do not rub against the wall?
A: It can vary somewhat depending on the case model but in general we suggest you leave approximately 6" of space.
Q: What are the DELUXE models made from?
A: The side pieces are made of real wood veneer over an MDF wood core, with herringbone inlay along the edges. The 4 support rails are solid hardwood.
Q: Will the full-size Studio Guitar Case Rack definitely fit 7 to 9 cases?
A: The number of cases that can fit on the full-size Studio Guitar Case Rack depends on the widths of each of the cases. Some cases are wider, some cases are narrower. To maximize the storage capacity, you could remove the dowels/separators to gain approximately an additional 7" of storage space. The best way to determine this is to measure all your cases and see if the total is less than 48".
Q: How high will my guitars sit from the floor? I keep my guitars in my basement and always worry about flooding.
A: Guitars and cases, when on the racks, sit approximately 3" above the floor. Of course, if flooding is a threat where you live, we strongly encourage you to avoid keeping your guitars in a basement.
Q: Can the rack be placed directly against the wall?
A: Because the guitars/cases need to lean, you will need a few inches of clearance. Anywhere from about 2" to 7" depending on the rack and guitar or case size.