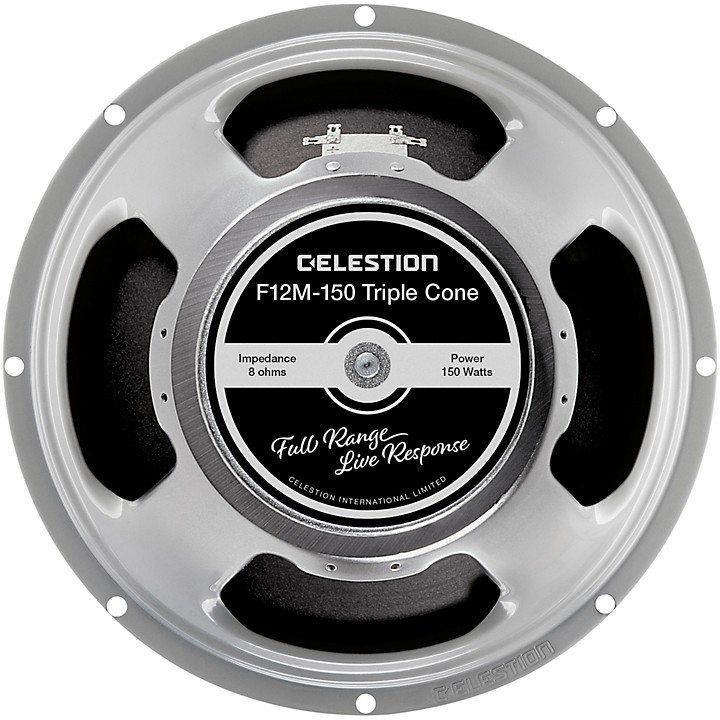 Full range live response "triple cone" speaker.
The Celestion F12M-150 Triple Cone Guitar Speaker is a full range, live response speaker designed for use with amp modellers and IRs. Its unique design features two additional tweeter cones integrated into the main woofer cone, making it a "Triple Cone". This enables the speaker to provide near full-range frequency performance from 60Hz up to 12kHz, for a rich and detailed sound in any set-up. The F12M-150 Speaker delivers a flat, neutral response that eliminates unwanted colorations that could overwhelm the input signal. With an optimized woofer cone and lighter moving mass, the F12M-150 Triple Cone is designed to closely mimic the responsiveness of a traditional guitar speaker, offering all the tactile feel you would expect from playing through a conventional guitar rig.
Specifications
Nominal Diameter: 12"
Nominal Power Rating: 150W
Nominal Impedance: 8Ω
Sensitivity: 97dB
Frequency Range: 60Hz-12,000Hz
Voice coil diameter: 2"
Chassis Type: Pressed steel
Magnet Type: Ceramic
Magnet Weight: 35 oz.
Voice coil material: Round copper
Mounting Information
Cut-out diameter: 9.0"
Diameter: 11.1"
Magnet structure diameter: 5.7"
Mounting slot dimensions: Ø 0.31"
Mounting slot PCD: 11.7"
Number of mounting slots: 8
Overall Depth: 5"
Cut-out diameter: 11.1"
Unit Weight: 7.9 lb.