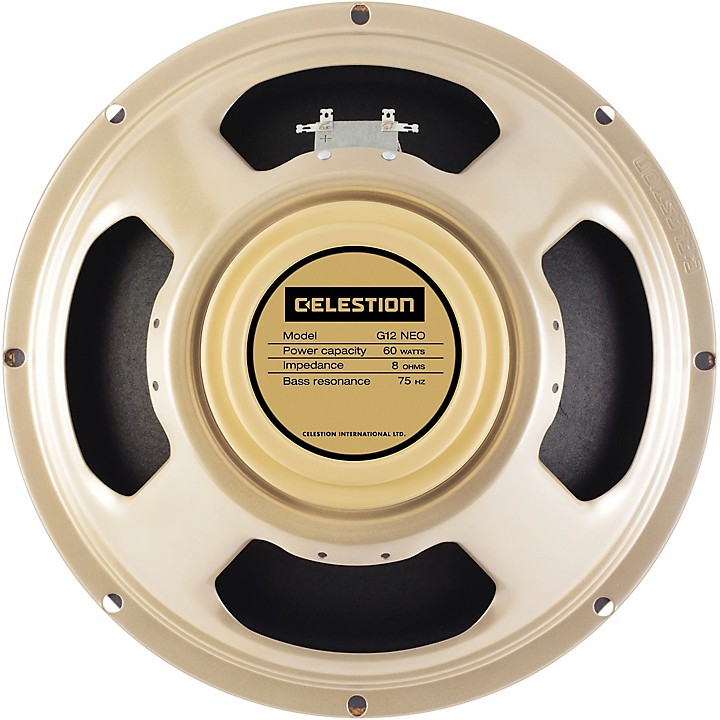 Get incredible Creamback tone at a fraction of the weight.
The Celestion Neo Creamback speaker is every ounce a Classic Celestion, delivering all the magical tone you'd get from a traditional Creamback. The difference is, it's built with a neodymium magnet, making this speaker around half the weight of a traditional ceramic magnet speaker.

Celestion's engineers have developed a new and innovative way to better harness the mighty forces of the neodymium magnet, enabling us to create a guitar speaker that can deliver authentic Creamback tone with ease, while preserving the benefit of neodymium's much lighter weight.

You still get the low end punch, warm, vocal midrange and sweet refined highs the Creamback is famous for. Push it hard and enjoy the race-car growl that sets pulses racing. But pick up a cab that's loaded with Neo Creambacks and you'll see what makes this speaker truly different.
Specifications
Nominal diameter: 12", 305mm
Power rating: 60W
Nominal impedance: 8 ohm & 16 ohm
Sensitivity: 97dB
Chassis type: Pressed steel
Voice coil diameter: 1.75", 44.5mm
Magnet type: Neodymium
Frequency range: 75-5000Hz
Resonance frequency, Fs: 75Hz
DC resistance, Re: 6.6 ohm & 13.1 ohm
Voice coil former material: Round copper
Mounting Information
Cut-out diameter: 11.1", 283mm
Diameter: 12.2", 309mm
Magnet structure diameter: 4.9", 124mm
Mounting slot dimensions: 0.31", 7.9mm
Mounting slot PCD: 11.7", 297mm
Number of mounting slots: 8
Overall depth: 4.8", 121.5mm
Unit weight: 4.2lb, 1.9kg