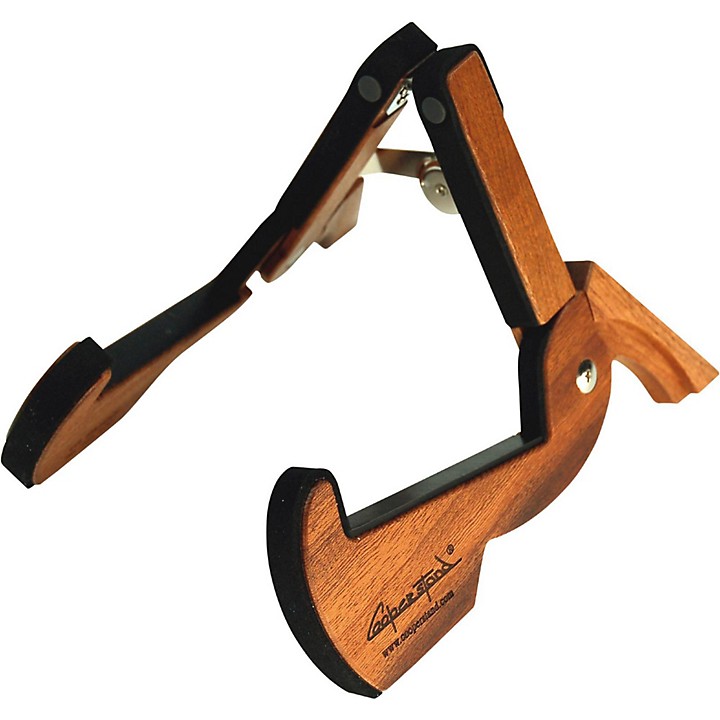 A small, compact stand for your small, compact instrument made out of beautiful African sapele.
Cooperstand's Pro-Mini Stand is fabricated from sustainable solid kiln dried African sapele hardwood. This compact stand is designed to temporarily and securely support a stringed instrument in a protected or monitored environment.

Pro-Mini is intended for solo performances, studio, home and display use and is designed with a square off rear leg that offers two setup options.

The first position will support the smallest instruments. In the full, open position it will support slightly larger instruments with bodies up to 3.75 in. thick. The Pro-Mini's highly durable design supports all sizes of ukuleles, u-bass, mandolins, a violin with or without a shoulder a rest, violas, harpsichords, tablets, or an iPad.

The Pro-Mini is a compact accessory that folds up small enough to store in many instrument cases, gig bags or even in a shirt pocket. Pro-Mini is a great choice for traveling professional musicians. It enhances the professionalism of the performer, and then neatly packs away for travel.
Features
Inert silicon pads at contact points
Closed cell neoprene padding
Hard neoprene in thin line areas
African Sapele construction
Stainless hinge with non-slip pins
Two-position brace
Measures 6-3/8 in. x 3 in. x 1-3/8 in. when closed
Measures 7 in. x 8 in. x 6 in. open - position 1
Measures 9-1/4 in. x 8 in. x 6 in. open - position 2
Comes in black velveteen bag
Limited Lifetime Warranty