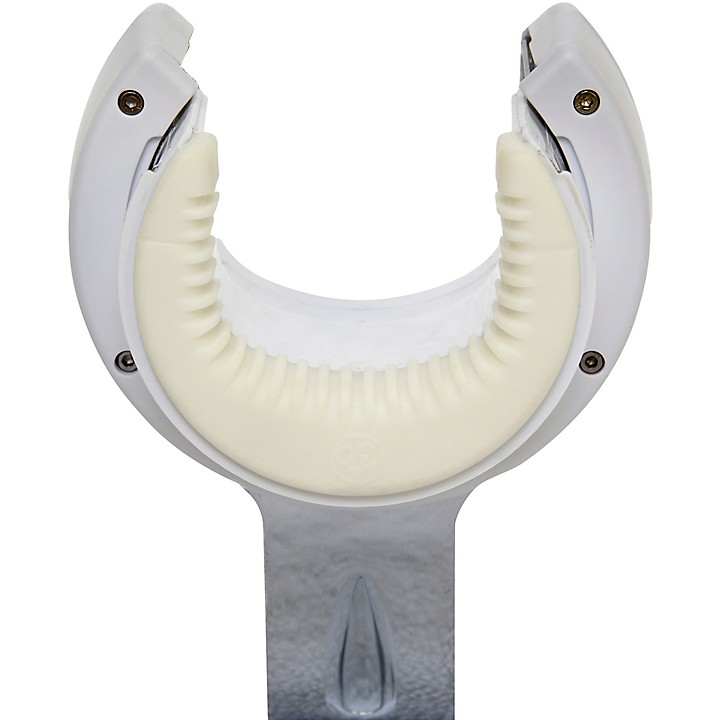 Safely, stylishly holds your guitar in place on the wall.
D&A's Headlock Gravity-Activated Wall Hanger keeps your guitar, bass or other stringed instrument safe while offering easy access. Grab it with one hand and you're ready to rock in seconds. The see-through safety gate locks the second you let go, and the materials are 100% safe for your favorite instrument no matter what type, brand or finish - including nitro. And it's sturdy. It has a significant structural strength that could hold the weight of any instrument. Finally, with a clean and elegant design, the Headlock softly and securely cradles your instrument away from the wall and off the floor into safety.

Ridiculously Reliable
After 30,000 activations and no signs of wear, D&A gave up trying to break it.

No-Slip Grip
No way your guitar or bass ends up broken on the floor with D&A's Grip Friction System.

Locked Up By Gravity
Insert, let go to activate the safety gate, and your instrument is safe.

What's in the Mix?
All contact points use TPE polymer (Thermal Plastic Elastomer) that never damages your guitar or bass. Your finish - even nitro - is safe.

Elegant, Expressive and Safe Design
The see-through safety gate keeps your instrument safe, as well as for the world to gaze upon in awe.

Dark or Light
The Headlock wall hanger comes in an all-black or white/chrome version – whatever suits your instrument, walls or furniture the best. Regardless of color, the safety is the same!

Tailored For Fit
Headlock is ready to lock up your favorite instrument. Guitars. Basses. Electrics. Acoustics. Whatever. Up to 2-1/8 in.

Set For Life
D&A has confidence in their products. So, they have your back. For good. Lifetime guarantee.


Features
Active gates surround guitar head and keep it secure
See-through polycarbonate gates turn any guitar into a secure, wall mounted piece of art
Reliable and durable construction for years of usage
Plastic TPE covers all points of contact and is safe for all finishes and types