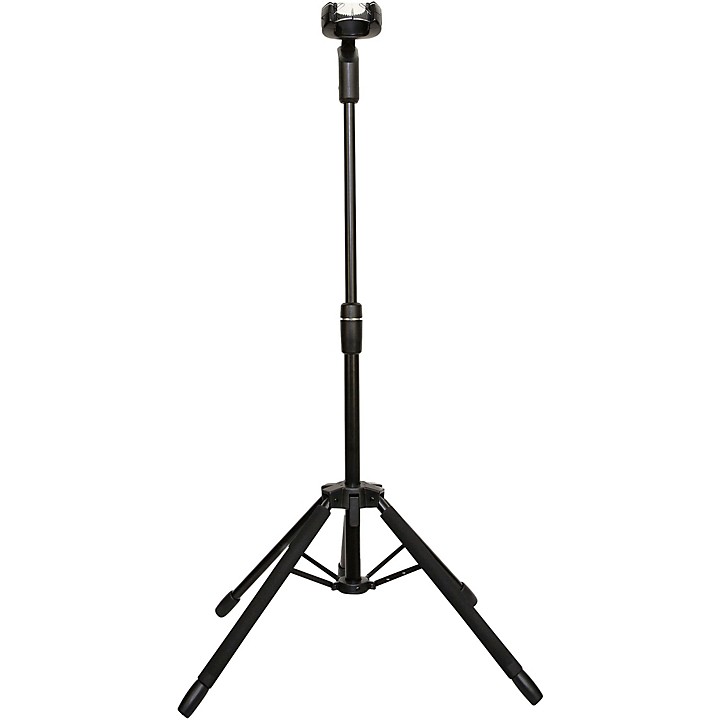 Keeps you guitar safer and locked in place between uses.
Your guitar or bass is more than just "an instrument." It's your tool for expressing yourself when you're in that creative mode. D&A's Starfish+ stand keeps your guitar, bass or other stringed instrument safely in check while waiting to be picked up to take center stage. It is the first 5-legged floor stand with a gravity-activated locking system on the face of the planet. It's also super safe for all types of finishes, including vintage nitro, and it folds out quickly so you can get to the important part, playing your music, in a matter of seconds.

Your instrument deserves to stand tall, proud and safe.

Happy Hour On Stability
Standing twice as stable, there is virtually no way you'll accidentally kick, bump or push down your instrument.

What's Your Degree!?
Standard guitar stands tilt at 15 degrees – not very safe. Fresh out of Safety College, the Starfish+ was designed to withstand a 30+ degree tilt, making it twice as stable and 100% more secure.

Locked Up By Gravity
Insert. Let go to activate the safety gate. And your guitar or bass is safe.

Know When To Fold
The Starfish+ folds down to half the size in seconds, allowing security to be convenient as well as compact. You shouldn't have to choose between safety for your instrument and the ability to travel compactly and with confidence.

Safety For All
The Starfish+ features TPE Polymer (Thermal Plastic Elastomer) over alloy steel to cover every point of contact with your instrument, making sure the finish is 100% unharmed.

No-Slip Grip
No way your instrument ends up broken on the floor with D&A's Grip Friction System.

Tailored For Fit
The Starfish + is ready to embrace anything. Guitars. Basses. Electrics. Acoustics. Whatever. (Up to 2-1/8 in.)

Set For Life
D&A has confidence in their products. So, they have your back. For good. Lifetime Guarantee.


Features
Can endure 30-degree tilt before tipping over
Folds down to half its size in seconds
Safe for all finishes
T.P.E. plastic and archival grade fabric on all contact points
See through lock made of bullet-proof material
Fits most acoustic and electric guitars and basses