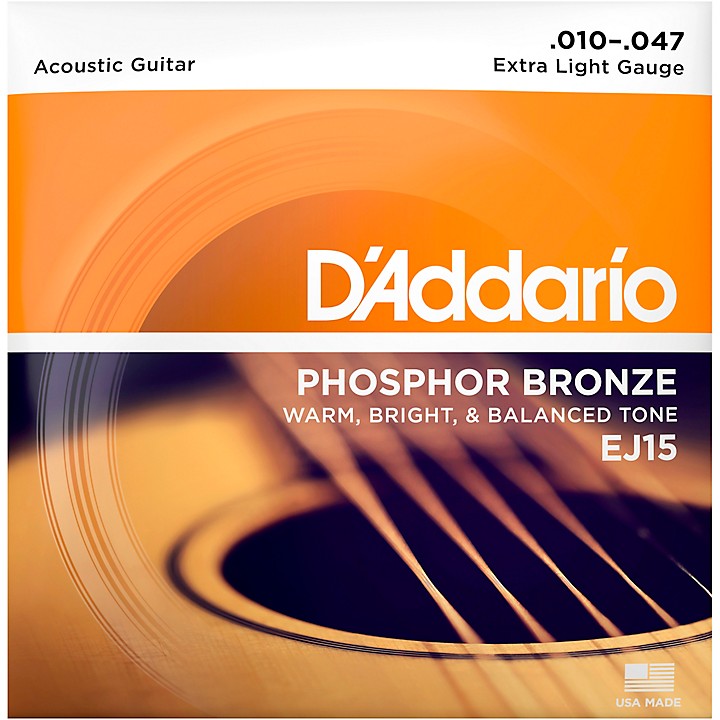 Superb tone that really lasts.
Music & Arts is proud to offer the EJ15 Phosphor Bronze Extra Light acoustic strings single pack, brought to you by D'Addario. Constructed of 80/20 phosphor bronze, these strings provide an exceptionally balanced tone that is both bright and warm. The extra light gauge—.010" to .047"—makes bending a breeze while maintaining tone and intonation. Whether fingerpicking or strumming, the EJ15 strings enable effortless playability and dynamic control. Their Element Shield packaging protects the strings from environmental damage, ensuring freshness and performance. For acoustic guitarists seeking strings that inspire creativity, the EJ15 Phosphor Bronze Extra Light acoustic strings are available at Music & Arts.
Phosphor Bronze Material Produces Clear, Even Tone
Phosphor bronze, an alloy of copper and tin, is renowned for producing acoustic guitar strings with a clear, even tone and long lifespan. The EJ15 strings utilize high-quality phosphor bronze wire that provides an ideal balance of warmth and brightness with punchy bass, crisp treble and singing sustain. Musicians will appreciate the tonal versatility and how the phosphor bronze complements various musical styles.
Extra Light Gauge Enables Expressive Playing
With a .010" to .047" gauge, the EJ15 strings have an extra light tension that makes bending, vibratos and slurs effortless while maintaining intonation. The slinky feel inspires expressive playing, whether delicately fingerpicking or aggressively strumming. The extra light gauge is ideal for musicians with a light touch or those playing in lower tunings.
Element Shield Packaging Keeps Strings Fresh
D'Addario's packaging is 100% airtight and watertight, protecting strings from environmental damage, including rust and tarnish. The EJ15 strings stay fresh right out of the pack, delivering the tone and feel as intended by Ernie Ball. The resealable Element Shield pouch also provides compact, organized storage for used strings.
Features
Phosphor bronze alloy strings known for warm, bright tone and excellent intonation
Plain steel core wire and phosphor bronze winding
Ball end construction reduces wear and tear on bridge and nut
Light gauge (.010–.047) for comfortable playability and extra flexibility
Made in the USA using high-quality, imported materials
Environmentally friendly, lead-free
Corrosion-resistant coating protects strings for longer life
String change recommended every four to six weeks for optimal sound and playability