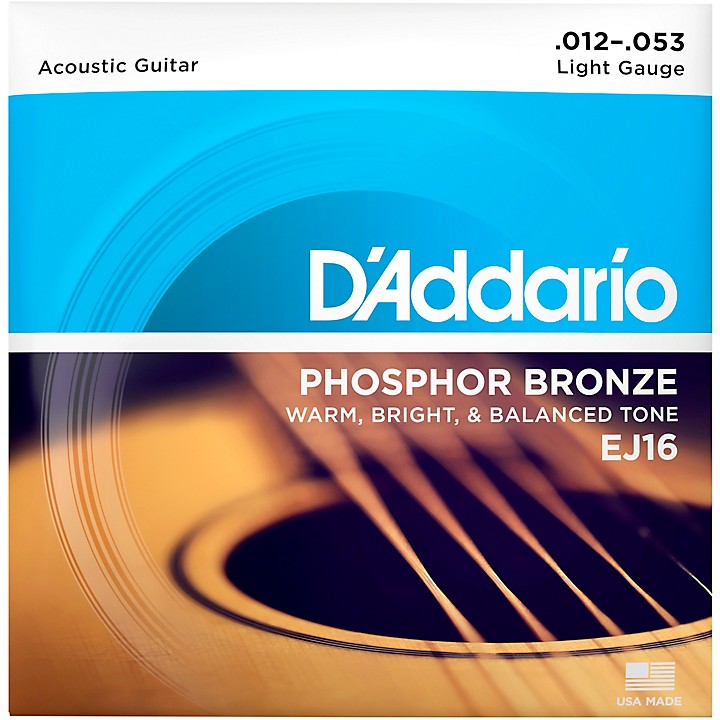 Extended life and crystal clarity.
Music & Arts is proud to offer the EJ16 Phosphor Bronze Light Acoustic Guitar Strings from D'Addario. These premium acoustic guitar strings are constructed of 80/20 phosphor bronze wire windings and hex core steel strings for a warm, balanced tone with clear, bright trebles and defined, articulate lows. The custom-gauge strings provide maximum durability and playability. Whether you play country, rock, blues or folk, EJ16 strings will complement the natural tone of your acoustic guitar. Now available at Music & Arts, D'Addario EJ16 Phosphor Bronze Light strings are the perfect choice for any acoustic guitarist looking to enhance their instrument's sound.
Phosphor Bronze for Warmth and Sparkle
The phosphor bronze alloy produces a warm yet sparkling tone that brings out the natural qualities of your acoustic guitar. EJ16 strings strike a balance between warmth and brightness for versatile sound that handles delicate fingerpicking as well as aggressive strumming.
Light Gauge for Playability
EJ16 Phosphor Bronze Light strings have a custom light gauge that maximizes playability for acoustic guitarists of all skill levels. The light tension makes complex chords and barre chords easy to fret while still producing a full tone. EJ16 strings have just the right flexibility and responsiveness for intricate fingerpicking styles.
Long-Lasting and Corrosion Resistant
Built to last, EJ16 Phosphor Bronze Light acoustic guitar strings feature a corrosion-resistant phosphor bronze alloy and hex core steel construction. The strings hold their tone and intonation even after many hours of play. Guitarists can count on the EJ16 strings to deliver consistent performance and sound quality gig after gig.
Premium Quality and Value
D'Addario is a leading manufacturer of premium guitar strings trusted by musicians worldwide. EJ16 Phosphor Bronze Light acoustic guitar strings provide exceptional tone and playability at an affordable price. For high-quality strings that won't break the bank, EJ16 strings from D'Addario are an outstanding choice.
Features
Phosphor bronze wound strings with warm, bright tone
Made of 80/20 phosphor bronze for flexibility and corrosion resistance
Hexagonal core wire for maximum resonance and projection
Plain steel B and high E strings for balanced tone
Made in the USA
Single pack of 6 strings
Gauge: Light .012–.053
For acoustic guitars
Made of 80/20 phosphor bronze for flexibility and corrosion resistance, warm bright tone
Hexagonal core wire for maximum resonance and projection
Plain steel B and high E strings for balanced tone
Made in the USA
Single pack of 6 strings
Gauge: Light .012–.053