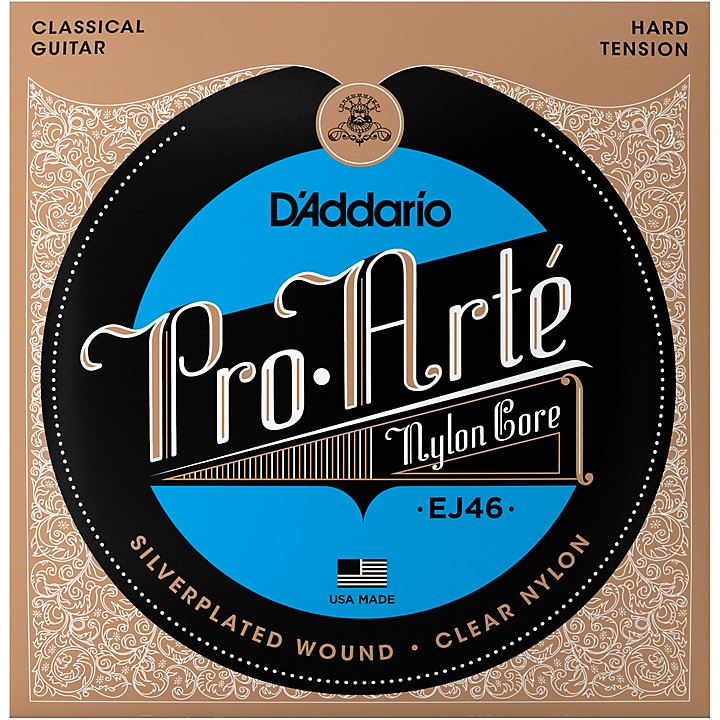 A versatile nylon-string electric with a natural acoustic sound.
The EJ46 Pro-Arte Hard Tension Classical Guitar Strings from D'Addario provide a robust tone and dynamic projection. The first nylon-string electric guitar strings from the iconic brand, the EJ46 bridges the gap between tradition and innovation. Featuring the groundbreaking Stage Pickup System, the lightweight, chambered mahogany body produces an impressively resonant tone with rich harmonic overtones. The comfortable neck and deep cutaway provide easy playability for steel-string players and smaller hands alike.


Responsive Pickup System Delivers Myriad Tonal Possibilities
Developed with Fishman, the Stage Pickup System offers intuitive volume, EQ and body blend controls to shape your tone. The EQ knob controls mid-range scoop, while the body blend knob balances the under-saddle pickup and body sensor. Powered by a 9V battery, the system provides an array of tones from open and airy to robust and crisp.
Chambered Mahogany Body Enhances Resonance
The solid, chambered mahogany body improves resonance and reduces weight, ideal for performance and transport. Three stylish soundholes let the instrument breathe, enhancing vibration and tone. At 1.5" thick with an ergonomic shape, the EJ46 is comfortable to play in any position.
Fusion Neck Accommodates Steel-String Players and Smaller Hands
The 48mm nut width and 16" fingerboard radius are slightly narrower than traditional nylon-string guitars, appealing to steel-string players, younger musicians and those with smaller hands. The comfortable neck and cutaway provide full access to higher frets.
Environmentally-Friendly Gig Bag Protects Your Investment
The included recycled nylon gig bag safely transports your EJ46 with padded handles, a durable shell and storage for accessories. Made from recycled nylon, including discarded fishing nets, the bag helps build a sustainable future for music. Order the EJ46 Pro-Arte Hard Tension Classical Guitar Strings today.