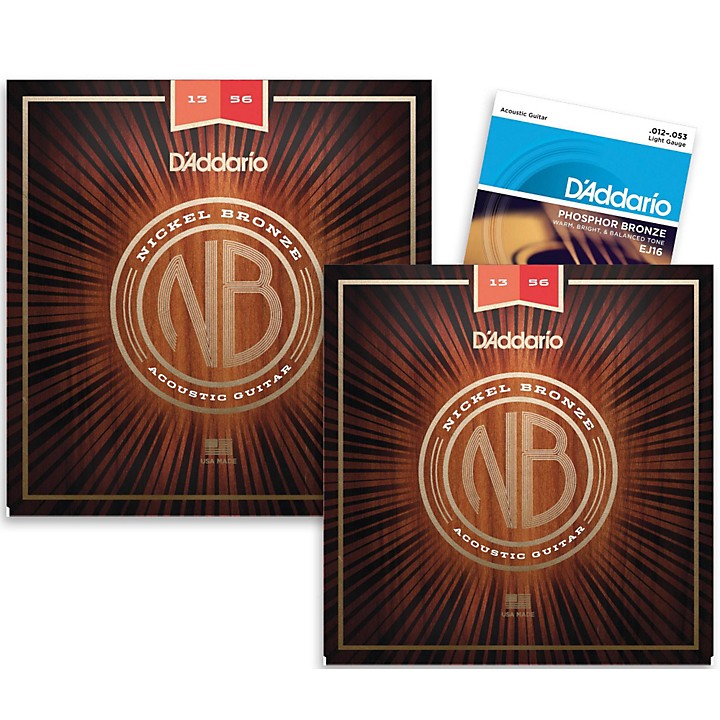 Three sets of specially priced acoustic strings.
The package includes three sets of specially priced acoustic strings from D'Addario—a 2-pack of NB1356 Nickel Bronze and a single pack of EJ16 Phosphor Bronze. It's an easy to see which ones work best for you.

NB1356 Nickel Bronze
Gauges: 13-17-26-35-45-56
Introducing D'Addario's new premium Nickel Bronze acoustic guitar strings. While many strings add color to a guitar's tone, these strings simply highlight a guitar's inner character, allowing your instrument's natural frequencies to truly shine.

Nickel Bronze provides a guitar with unrivaled clarity, resonance and projection, as well as outstanding balance and harmonically rich overtones. Since this uncoated set also features D'Addario's proprietary NY Steel core, players will also enjoy improved tuning stability and higher break resistance.

EJ16 Phosphor Bronze
Gauges: 12-16-24-32-42-53.
These acoustic guitar strings feature a computer-controlled wrapping around a hex core. The popular alloy of phosphor bronze lends the depth needed to make a dreadnought guitar speak, while retaining the sparkle a fine instrument can produce.