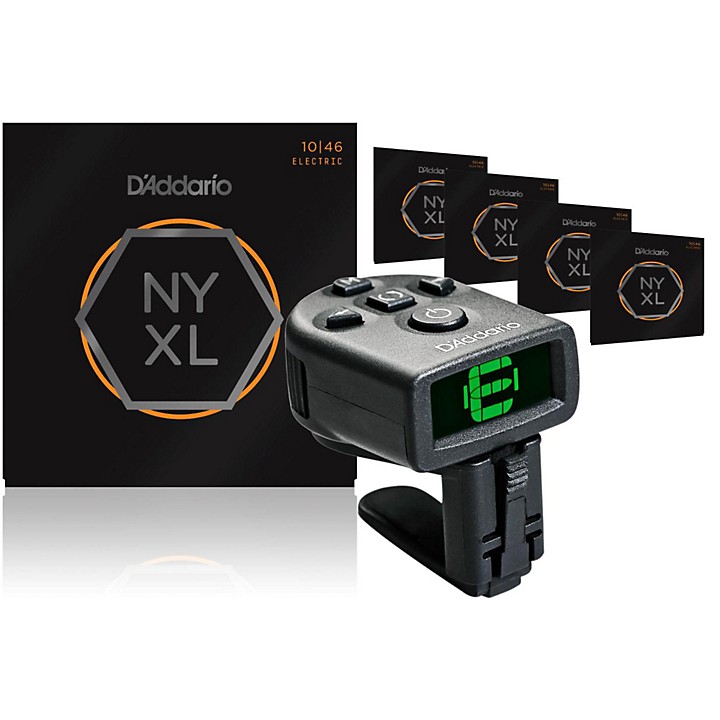 Re-engineered to be stronger for enhanced output.
The NYXL Light Electric Guitar Strings come in gauges .10 - .46.

You've spent hours and hours researching, eventually purchasing a guitar that looks and feels right to you. Perfect weight, neck shape, body style, neck profile, and electronics. But what does all that time spent mean if you don't have the right strings? That combo of tonewoods and your preamp's special bells and whistles just won't reach their full potential. While you may enjoy your sound at first, you're really cheating your fingers and ears in the long run. And let's face it, most guitars come with average strings that just give it just enough to entice. They aren't meant to be long-term sound solutions. That's where D'Addario NYXL strings come in.

D'Addario NYXL guitar strings will bend farther, sing louder, and stay in tune better than almost any other strings. Envisioned, perfected, and manufactured by D'Addario in New York, this newly engineered, break-resistant high-carbon steel core and plain steel alloy delivers a whole new level of freedom, confidence, and power. NYXL's provide more strength and 131% more tuning stability by utilizing a completely reinvented wire drawing process and revolutionary corrosion-resistant tin coating application. The reformulated nickel-plated string windings have greater magnetic properties resulting in higher output and enhanced mid-range frequency response for more presence and crunch. The NYXL1046 set is designed with the most popular string gauges for its ideal combination of flexibility and tone.

NS Micro Headstock Tuner
The NS Micro offers improved accuracy, faster response, expanded calibration range, visual metronome mode and an improved ratchet design. A highly sensitive piezo transducer and easy-to-read multi-color backlit display allow smooth and highly accurate tuning in noisy, dim or well-lit environments while the micro design and reversible screen allow the tuner to hide effortlessly behind or mount on the front side of the headstock allowing the tuner to remain clamped to the instrument inside most cases when stored. A 360-degree swivel mechanism and adjustable padded clamp offer optimal viewing angles and maximum positioning flexibility. As a result, the NS Micro is equally at home on left- and right-handed instruments as well as on small and large headstocks, making it an ideal choice for the widest variety of players and instruments. The NS Micro is powered by a readily available CR2032 battery (included) and provides maximum battery life utilizing an auto-off function, shutting the tuner off automatically after several minutes from power up.
Features
Features D'Addario's exclusive revolutionary high carbon steel alloy
Offers more strength, break-resistance, and improved tuning stability compared to traditional nickel wound strings
Wound strings contain enhanced mid-range frequency response in the 1-3.5kHz range - boosting presence and crunch
Offers an ideal combination of flexibility and tone: Plain Steel .010, .013, .017, Nickel Wound .026, .036, .046
NS Micro Headstock Tuner
Built-in piezo transducer picks up instrument's vibration rather than soundImproved software for faster response and improved accuracyTri-color reversible backlit LCD screen makes it easy to tune in dark environments while allowing mounting in front or behind headstock