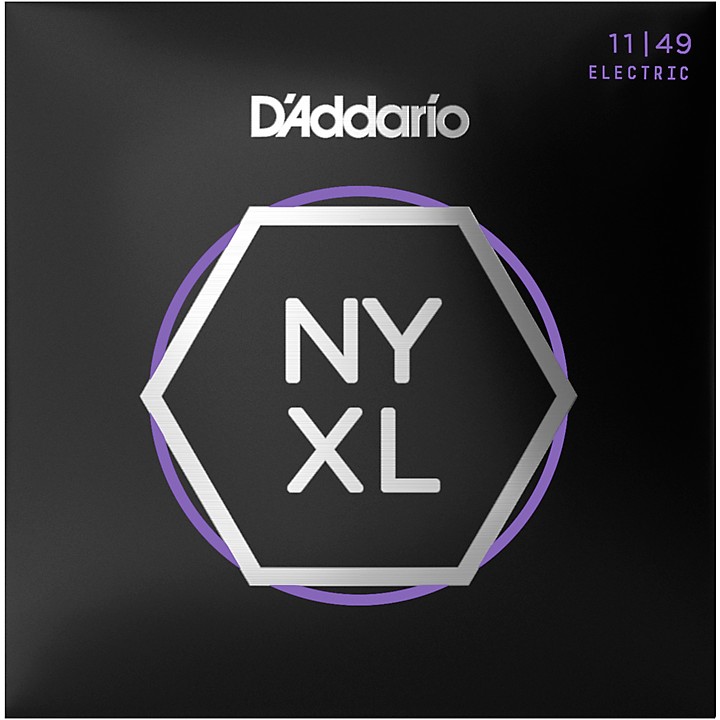 Re-engineered to be stronger for enhanced output.
D'Addario NYXL1149 Medium Electric Guitar Strings are engineered to inspire. Featuring an exclusive high carbon steel core and nickel-plated wrap wire, these strings bend further, sing louder, and stay in tune longer than any you've played before. Their unique construction delivers peerless strength and tone for guitarists who demand the very best. The NYXL1149 strings are built for the rigors of the road and the studio alike.

At the heart of NYXL1149 strings is a high carbon steel core wire boasting up to 131% greater tuning stability than standard strings. This proprietary wire is drawn and processed in New York using a fusion twist technique for plain strings and a cutting-edge winding method for nickel-plated wrap wires. The end result is a set of strings with superior durability and intonation for any style of playing.

NYXL1149 strings feature nickel-plated wrap wires redesigned for accentuated mids and highs. Between 1 and 3.5kHz, these strings deliver up to 2dB more output for an electric tone with natural presence and articulation. Combined with the high carbon steel core, the wrap wires produce a balanced set of strings ideal for chordal accompaniment, emotive lead work, and everything in between.

To ensure peak performance and tone, NYXL1149 strings come housed in corrosion resistant packaging. This innovative storage solution shields the strings from environmental damage while allowing them to breathe. As a result, the strings sound as vibrant and responsive on the day of purchase as the day they leave the factory. For guitarists on the go, the color coded ball ends also make changing and replacing individual strings a breeze.

For over 300 years, the D'Addario family has pioneered string technology for musicians around the world. Since relocating from Italy to New York in 1905, D'Addario has designed the first modern winding machines, introduced hexagonal core wires, and created the colored ball end. Today, D'Addario continues to push the boundaries of tone and durability at their string facility in New York, where over 500,000 strings are made each day. NYXL1149 strings embody this spirit of cutting-edge design and old world craftsmanship.


Features
Features D'Addario's exclusive revolutionary high carbon steel alloy
Offers more strength, break-resistance, and improved tuning stability
Wound strings contain enhanced mid-range frequency response in the 1-3.5kHz range - boosting presence and crunch