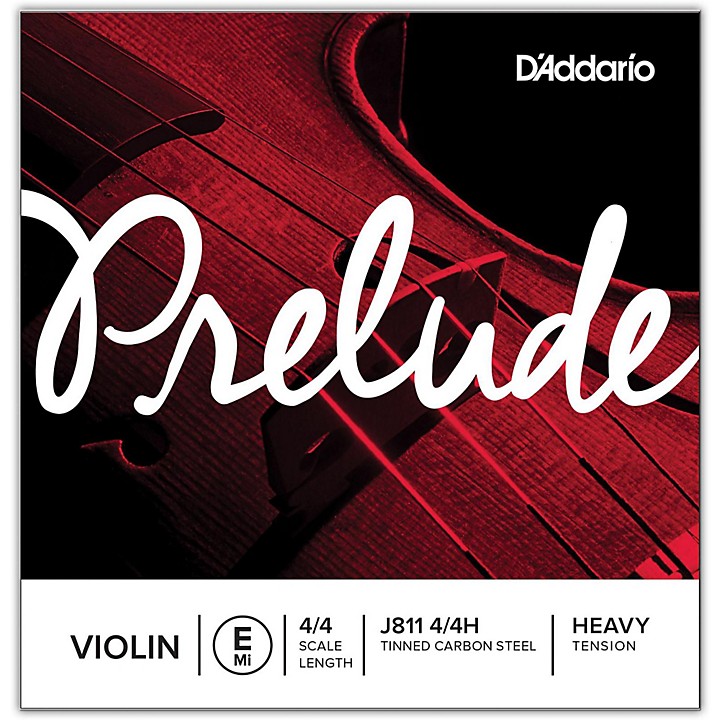 A reliable and affordable set of strings for aspiring violinists.
The D'Addario Prelude Violin E String provides student and amateur violinists with a high-quality string option that won't break the bank. Featuring a solid steel core, the Prelude E String delivers a warm, full tone that avoids the shrillness of some traditional steel strings. Its balanced tension also gives it a responsive, comfortable feel that makes it easy to play, even for beginners. The Prelude Violin E String is designed to withstand changes in temperature and humidity, ensuring consistent intonation and tone no matter the environment. For violinists looking to upgrade their instrument without a big investment, the D'Addario Prelude Violin E String is an excellent choice.


Solid Steel Core Creates a Warm, Full Tone
The Prelude Violin E String is built around a solid steel core that produces a warm, rich tone with full-bodied resonance. Unlike some steel-core strings that can sound shrill or tinny, the Prelude E String has an evenly balanced sonic profile across all registers of the violin. Its warm tone also blends well with the natural resonance of most student violins, helping you get the most out of your instrument.


Balanced Tension Responds Well to the Bow
The Prelude Violin E String is designed with balanced tension that gives it an responsive, easy-to-play feel. Even subtle movements of the bow translate into clear, singing notes. This responsive quality makes the Prelude E String well-suited for beginners who are still developing bow control and want feedback to help improve their technique. The balanced tension also reduces hand fatigue, allowing you to practice longer.


Withstands Changes in Temperature and Humidity
The Prelude Violin E String's solid steel core gives it excellent stability in varying weather conditions. Changes in temperature and humidity won't cause the string to go out of tune or become harder to play. This consistency means you can achieve the same tone and playability no matter if you're practicing in a heated studio, an air-conditioned classroom or a humid concert hall.


An Affordable Upgrade for Student Violins
For violinists on a budget, the D'Addario Prelude Violin E String provides an affordable way to upgrade your instrument without a major investment. Although inexpensive, the Prelude E String doesn't sacrifice tone or playability. Educators frequently recommend the Prelude line of violin strings to their students due to the brand's reputation for quality, reliability and value. The Prelude Violin E String delivers professional-level performance at a price any violinist can afford.

Order the D'Addario Prelude Violin E String today.