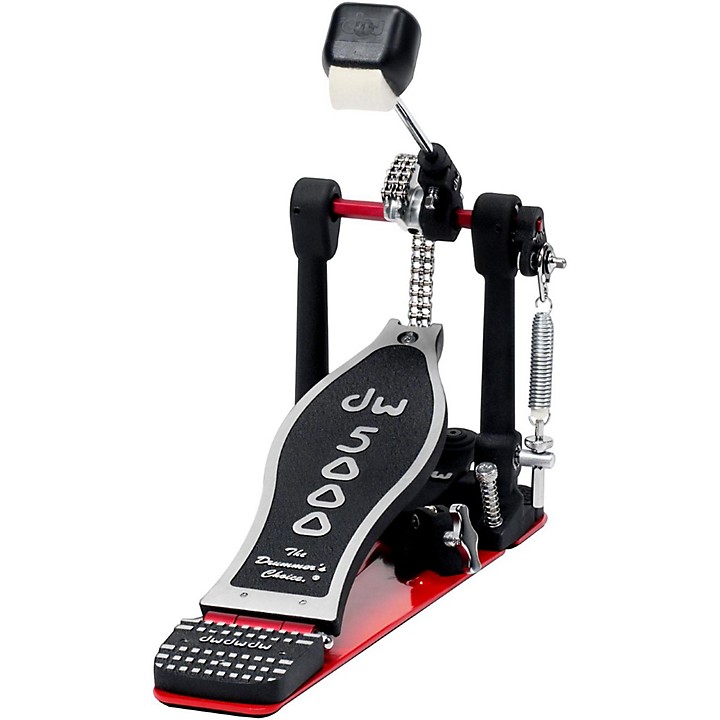 A brawny kick pedal rich with new features and upgrades - including the delta 3 system with bearings at all moving points.
It has long been the standard kick pedal for the rock drummer and DW pushes the bar to new heights with this 5000 Series Single Pedal. Featuring a host of refinements and upgrades, the legendary 5000 line features a choice of drive systems, aluminum hex shafts, pedal plates and linkages, dual side adjusting hoop clamp, 101 two-way beaters, and built in spurs. This pedal can be customized to fit the needs of any player.

Additionally, the Accelerator (AD4) drive system offers an eccentric motion that creates an indirect relationship between the sprocket and the footboard, increasing the velocity of the pedal by shortening the length of the stroke. It is recommended for situations that require increased speed and sensitivity.
Supported by a footboard that is a dream for heel-down technique players, this pedal will accommodate the heaviest hitter or satisfy the progressive percussionist.

Note that DW products are not available for further discounting online. For additional information, please call 866-226-2918.

Features
Delta Ball-Bearing Hinge
Bearing Spring Rocker Assembly
Dual Adjustable Toe Clamp (incl. clip with footboard-mounted Drum Key)