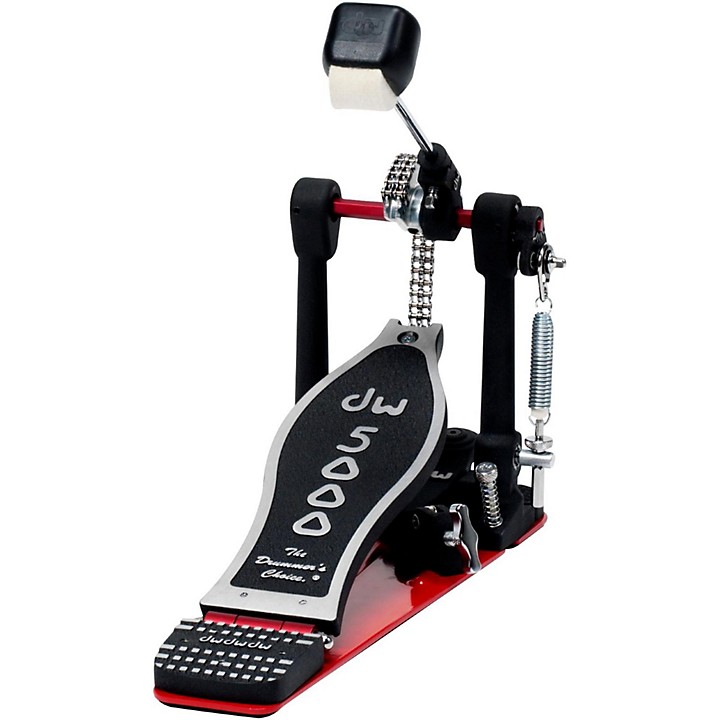 A reboot of the classic DW single kick pedal rich with a host of new features and upgrades.
DW has re-engineered the 5000 Series Single Turbo Bass Pedal that established their reputation for innovation and quality. Known for innovation, DW thought it time for some major improvements.

Most notably, the toe clamp. The 5000 needed more gripping strength, providing a stronger connection between the drummer and kick drum. So, DW developed the Tri-Pivot Toe Clamp. The clamp features three independent 360 degree, rotating rubber pads firmly pinch almost any diameter and thickness bass drum counter hoop from the top and the bottom, with zero slippage. Add to that a new textured rubber grip pad on the base plate and you'll agree that there's never been a better system for attaching a pedal to a bass drum.

Last, but certainly not least, DW wanted to improve on the smoothness and feel of the 5000. To accomplish this, the Dual Bearing Spring Rocker was added, making the 5000 quicker and more responsive. Featuring a host of refinements and upgrades, the legendary line of 5000 Series bass drum pedals still features a choice of drive systems, aluminum hex shafts, pedal plates and linkages, 101 two-way beater, and built in spurs. These pedals can be customized to fit the needs of any player.

Note that DW products are not available for further discounting online. For additional information, please call 866-226-2918.
Features
New Tri-Pivot Toe Clamp ((incl. clip with footboard-mounted Drum Key)
Delta Ball-Bearing Hinge
Bearing Spring Rocker Assembly
Dual Adjustable Toe Clamp Universal Assembly (with memory lock)
Single Post Casting