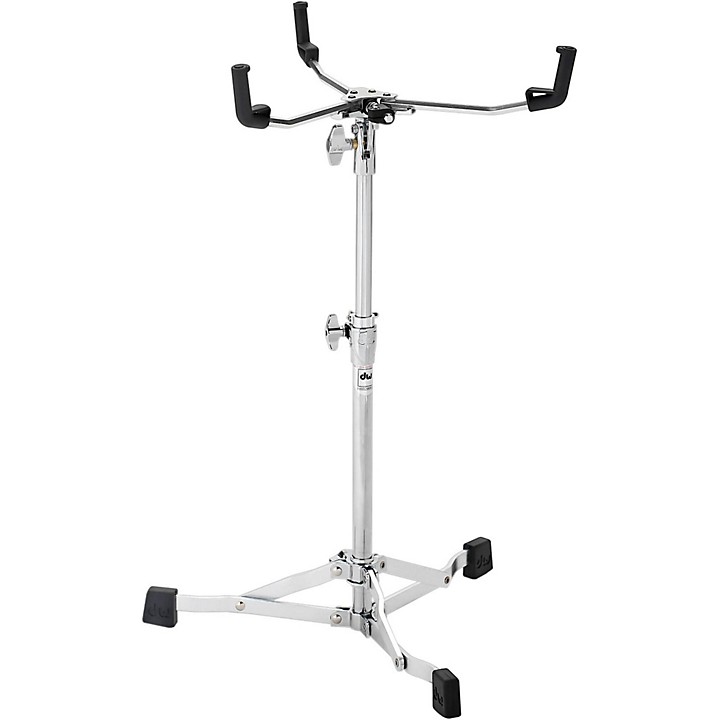 Light, strong, and compact.
The DW 6300 Ultralight Snare Drum Stand was created for students, weekend drummers and working pros. The 6300 stand's performance upgrades and enhanced adjustability bring modern technology and manufacturing methods to a classic drum hardware design.
The DW snare stand's vintage-style flush-base leg assembly and smaller diameter tubing provide a practical hardware option that is significantly lighter without sacrificing quality or performance. The snare stand is also equipped with an ultralight fine tilt adjustment and memory lock.
6000 Series Ultralight Series
A scaled-down version of the popular lineup of 6000 Series retro-styled, flush-base hardware, 6000 Series Ultralight stands utilize smaller diameter, lighter gauge steel tubing and a low-mass tube joint for optimal portability. Other marquis features include a new Glide Tilter for exacting adjustment of cymbal and snare drum angles. An "old-school" snare basket design get a modern, spring-loaded make over and the hi-hat stand is as smooth and effortless as its 6000 cousin. Ultralight hardware is a perfect fit for bop kits, vintage sets and gigging drummers everywhere.

Note that DW products are not available for further discounting online.

Features
Low-profile and lightweight aluminum flush base design
Snare drum angle adjustment can be firmly locked with recess locking wing screw
Hinged memory locks at tube joints so height adjustments are precise and repeatable
5/8" upper tube, 3/4" base tube,
Minimum height: 17"
Maximum height: 25"
Minimum basket height: 19.5"
Maximum basket height: 27.5"
Weight: 5.8 lb.