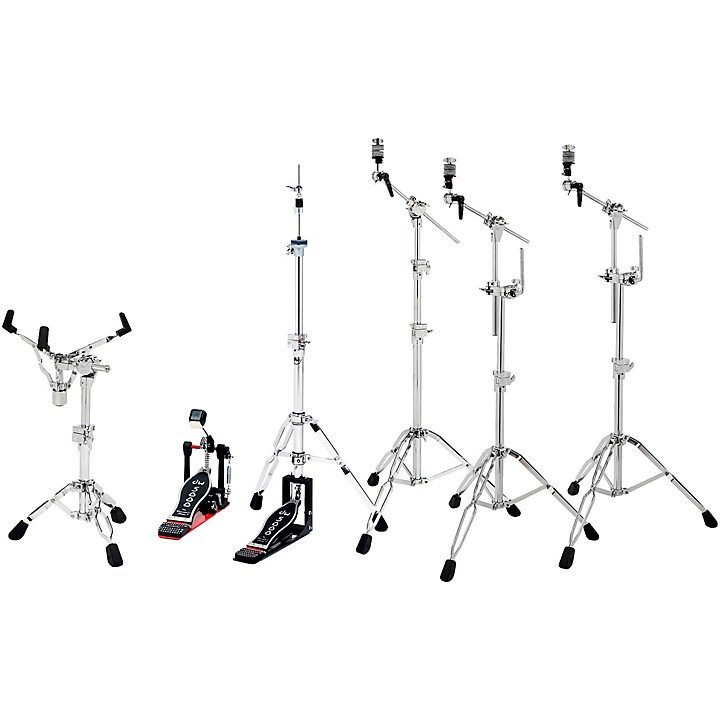 A comprehensive hardware solution for rock-solid drum kits.
The DW 5000PK6 6-piece hardware pack provides all the hardware you need for a versatile, wide-ranging drum kit that rocks two rack toms, a floor tom, bass drum, snare and three cymbals. This "get it done" bundle includes a 5000AD4 dual-chain-drive bass-drum pedal, 5500TD 2-leg rotating hi-hat stand, 5300 snare drum stand, 5700 straight/boom cymbal stand and two 5791 combo tom/cymbal stands.
5000AD4 Dual-Chain-Drive Bass Drum Pedal
The 5000 series Accelerator cam delivers formidable velocity, yet also maintains dynamic sensitivity for precise kick strokes. A twin advantage of a double-chain drive and a dual-spring rocker work to ensure smooth and responsive playability for all styles and techniques. Like to punch and pummel for explosive bass-drum patterns? The 5000AD4's rubber base will keep the pedal—and your kick drum—firmly in place. No matter what type of kick drum you like to use, the 5000AD4's tri-pivot toe clamp fastens securely to almost any drum hoop.
5500TD 2-Leg Rotating Hi-Hat Stand
The two-leg design of the 5500TD leaves room for double-bass drum pedals, but even if you use a single pedal, the rotatable legs can swivel into almost any position you want for comfort and ease of set up. Integrated memory locks guarantee a precise setup gig after gig, and a spring-release footboard folds up for worry-free transport. If you want to change the angle of the bottom hi-hat cymbal, the 5500TD's lateral seat adjustment makes it a snap—even during a performance.
5300 Offset Snare Drum Stand
The 5300's offset design is just the thing for getting your snare positioned right where you want it, and integrated tube-joint memory locks retain your preferred setup every time. If you're picky about the angle of your snare head, the fine-tooth tilter allows exacting snare-drum adjustments to suit any technique. You'll never have to worry about your perfect positioning becoming undone by forceful playing, because the super-stable, double-braced 1-1/8" tripod base guards against tipping and creeping.
5700 Straight/Boom Cymbal Stand
The heavy-duty 5700 can see action as a straight stand for stages and rehearsal rooms where space is at a premium, or as a boom stand for putting your cymbal right within reach. The 5700's fine-tooth tilter allows precision positioning—no more "swing and a miss" when reaching for a crash cymbal on an oddly placed straight stand—and integrated memory locks ensure your preferred setup is always the same right out of your hardware case.
5791 Combo Tom/Cymbal Stands
Some drum makers don't include rack tom mounts on selected bass drums. The reasons could be they feel the bass drum will sound more resonant without a hole cut into its top, or they feel drummers should have the option of positioning their toms exactly where they want them without a manufacturer setting a fixed location. Even when a mount is included on a bass drum, some drummers think it looks and feels hipper to put the tom on a boom-stand mount. The sturdy 5791 does it all with an integrated boom and tom assembly on a single stand. The DW 5000PK6 Hardware Pack gives you two of these stands to increase your groove artillery.
Features
5000AD4 dual-chain-drive bass drum pedal
5500TD 2-leg rotating hi-hat stand
5300 offset snare drum stand
5700 straight/boom cymbal stand
2 x 5791 combo tom/cymbal stand